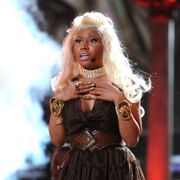 THANKS ALL OF YOU FOR YOUR VOTES!!! The result is:
Total votes: 36
That means Roman Zolanski page has selected as the BEST PAGE IN ALL WIKI MINAJ and it will participate at the Time To Play Across Wikia event.
Thanks all of you for voting, we appreciate it a lot, sincerely --Wiki Minaj - Admin Team
Archive (11/12/2012)
Thanks for your nominations! The list of nominees is the following:

The poll starts now! Vote for your favorite page, you have one week!

THE POLL FINAL RESULTS
Starships 3
Nicki Minaj 5
Pink Friday: Reloaded Tour 1
Roman Zolanski 20
Lil Wayne 1
The Harajuku Barbie 6
Archive (11/05/2012)
Ok, if you want to know more read this Time To Play Across Wikia but obviously you're too lazy to do it so I'm gonna explain what we are gonna do:

Barbz, we (admins) need your help. We want to know which of all the 960 pages of Wiki Minaj you think is the best in the whole wiki and nominate it here in this blog (in a comment, obviously).

This is with the purpose of promoting the wiki among all the Internet so please take your time to write the name of the article you want to nominate. It would be better if you tell us why the article you nominate is the "best article in the Wiki Minaj" BUT BECAUSE YOU ARE SO LAZY I KNOW YOU ARE NOT GONNA DO IT SO THERE IS NO PROBLEM BUT AT LEAST WRITE A NAME.

ANYONE CAN NOMINATE AN ARTICLE. YOU CAN BE AN ADMIN, AN USER, AN ANONYMOUS CONTRIBUTOR, EVEN A GUY THAT DOES NOT GIVE A SINGLE F TO NICKI.

For example, I nominate the Roman Zolanski page because is the most seen page of the whole wiki (more than 94,000 visits).

When we have some nominees, I'm gonna do a poll to vote for the best page in the wiki and you all can vote (it's gonna be the f. poll, if Maxx agree he better)

I KNOW MUST OF YOU DON'T CARE BUT WE WILL BE VERY GRATEFUL IF YOU HELP AND SUPPORT US WITH THIS. THIS WOULD MAKE WIKI MINAJ GROW BIGGER

So, let's begin with the nominations :) --va.va.voom 04:07, November 2, 2012 (UTC)
Ad blocker interference detected!
Wikia is a free-to-use site that makes money from advertising. We have a modified experience for viewers using ad blockers

Wikia is not accessible if you've made further modifications. Remove the custom ad blocker rule(s) and the page will load as expected.