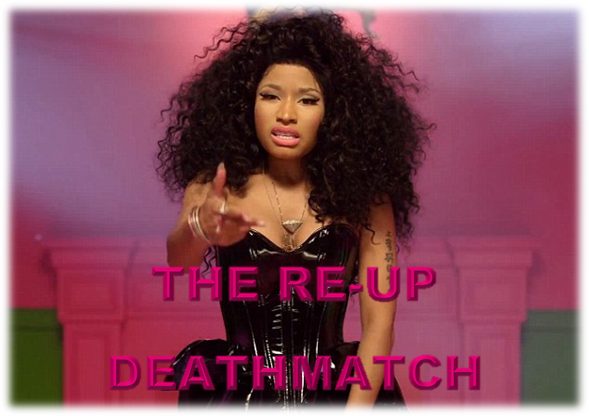 END OF THE ROUND (October 25, 2013)
Pink Friday and Roman Reloaded have their deathmatches, but now is time to Re-Up! With just less than a month for its anniversary, Pink Friday: Roman Reloaded - The Re-Up will have its own Deathmatch with its own style!
Because of the inexact amount of participants (seven), the Deathmatch will start with a Elimination Chart in which all the song of The Re-Up will battle against each other ONCE. The song with the most votes will win the match and earn three points. If the match results in a tie, both songs will earn one point. The loser will earn zero points. There will be seven matches each week, giving a total of twenty-one matches. The two songs with the most votes at the end of the twenty-one matches will battle in the Grand Final. All the songs have the opportunity to show what they are made of against its sisters tracks.
Let the Deathmatch begin! Vote for the best track of the two selected in each poll!
ELIMINATION ROUND 1
Overview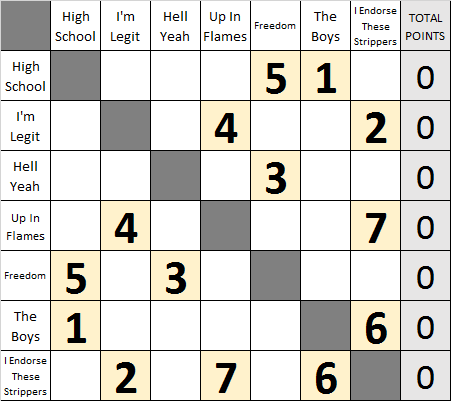 Notice that the matches are selected randomly, although not necessary because all the songs will end battling the others. One or more songs will battle twice or more each round.
HELP! I don't understand the chart!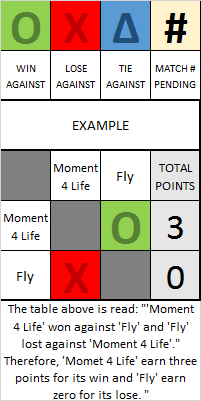 ---
Match #1
---
Match #2
---
Match #3
---
Match #4
---
Match #5
---
Match #6
---
Match #7
---
Ad blocker interference detected!
Wikia is a free-to-use site that makes money from advertising. We have a modified experience for viewers using ad blockers

Wikia is not accessible if you've made further modifications. Remove the custom ad blocker rule(s) and the page will load as expected.