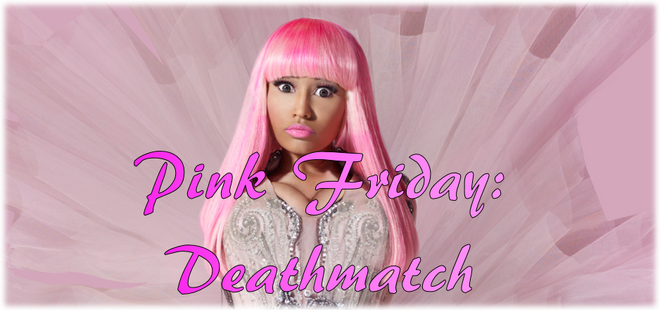 WINNERS
LOSERS
5th, 6th and 7th places
5th: Here I Am and Super Bass (9 votes)
6th: Last Chance (5 votes)
7th: Muny (2 votes)
---
The Semi-Finals are on and the four best tracks of Pink Friday managed to win over their rivals last round. Elite Four in the building, which of this four tracks will be crowned the winner?
"Moment 4 Life" managed to beat the fan's favorite "Super Bass" with over THIRTEEN votes of difference. Meanwhile, Roman acquired his Revenge against underrated "Muny." The two inspirational songs, "Last Chance" and "Fly," fought last round to see which one inspire the most and the later took the title. But the intense match last round was between "Your Love" and "Here I Am," with just ONE vote of difference, "Your Love" pass to the semi-finals.
Lets see which is gonna give a match this time. Vote for your favorite track below!
SEMI-FINALS
Overview

---
Match #1
---
Match #2
---
5th, 6th, 7th and 8th places!!!
Select the best track to determine the 5th, 6th, 7th and 8th place!
Ad blocker interference detected!
Wikia is a free-to-use site that makes money from advertising. We have a modified experience for viewers using ad blockers

Wikia is not accessible if you've made further modifications. Remove the custom ad blocker rule(s) and the page will load as expected.