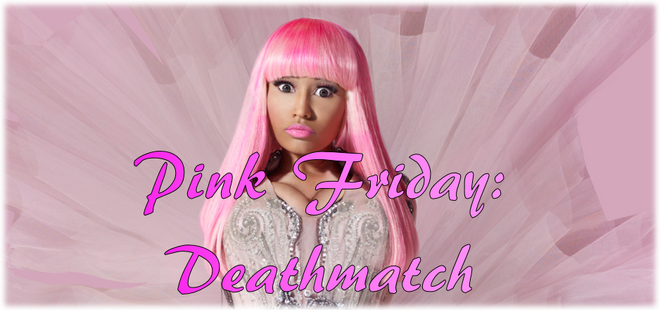 Winners
Losers
---
GROUP ROUND IS OVER! Now we go to the one-on-one matches. Wiki Minaj community has spoken! The Best Eight tracks of Pink Friday will battle to decide which one of them deserves to be called THE BEST SONG OF PINK FRIDAY.
"Last Chance" and "Moment 4 Life" showed their high status at being the most voted songs in their groups, Boss and Ninja, respectively, with 26 votes each one. After them with the most votes, "Here I Am" and "Fly" got 19 and 18 votes, from groups Lewinsky and Barbie, respectively. One of this four songs will probably be crowned the winner of the Deathmatch, but nothing is sure at this moment!
Obviously, we could not miss the top charter "Super Bass" in the Elite Eight. The bassy song won second at its group with 14 votes. "Roman's Revenge" and "Your Love" also passed the groups round with 12 and 10 votes respectively. Nicki's favorite "Muny" is the other song that passed the groups round.
Sadly, not all good songs passed (just the bests). "Save Me," "Blazin'," "Catch Me," "Did It On'em" and "Girls Fall Like Dominoes", all of them lost the round with 8, 5, 4, 8 and 9 votes respectively. Impressively, there where a triple tie at the Barbie group between the emotional songs "I'm the Best," "Right Thru Me" and "Dear Old Nicki," with 7 songs each one. "Wave Ya Hand," "Blow Ya Mind," "BedRock" and "Check It Out" fell short with 2 votes or less each.
Now is the time to go with the Quarterfinals. Vote for the best song below!
NOTE: The matches were selected randomly, don't get mad!!!
QUARTERFINALS
Overview

---
Match #1
---
Match #2
---
Match #3
---
Match #4
---
Ad blocker interference detected!
Wikia is a free-to-use site that makes money from advertising. We have a modified experience for viewers using ad blockers

Wikia is not accessible if you've made further modifications. Remove the custom ad blocker rule(s) and the page will load as expected.