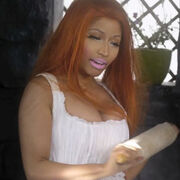 Breaking and horrible news for all of you
Barbz
!!!
Nicki just said on her Twitter that she is NOT going to do more POP songs!!!
Here is the tweet:
@NICKIMINAJ: no > RT @Onikasus @NICKIMINAJ Do you plan on still doing pop songs ? #REUPNOV19 7:31 pm - 11 Nov 12
What do you think??? Leave your comments below!
Ad blocker interference detected!
Wikia is a free-to-use site that makes money from advertising. We have a modified experience for viewers using ad blockers

Wikia is not accessible if you've made further modifications. Remove the custom ad blocker rule(s) and the page will load as expected.