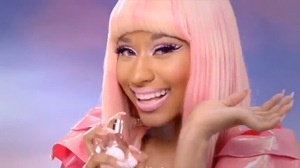 Hey Barbz! Happy Holidays or whatever the hell you celebrate! We want to know if you have any suggestions for the Wiki. Please tell us your suggestions in the comments of the following:
Background
Do you want a new photo shoot of Nicki at the background or you want a COMPLETELY new background? Tell us! You can link us to other photos if you want different photos of Nicki.
Content
You think we should change the font letter? Or do you think a new link color will suit better to the wiki? Tell us!
Templates
If you have any idea of what is this... Don't like our actual templates? Suggest a change! You can link us to the template of other wikis if you prefer the design of the templates of other wikis :)
Administrators
Any suggestion for us (the admins)? Don't be scare of us, we really want to know if you have any complain about our behavior. This is not an Anarchy, we are just janitors in here.
Wiki Navigation
Do you want to add something or quit something of the Navigation? Please tell us!
Wordmark
Though I think that the Wordmark is already very good, I want to know what do you think about it or if you want to suggest a wordmark you made.
Icon
Do you want another icon for the wiki? Please, suggest an image! (The image has to be 16 x 16 px)
Main Page

Main article: Forum:Suggestions for the Main Page (2012)
Post a general suggestion for the main page in this blog. For a more exhaustive suggestion go to the main article of the main page suggestions.
Others
Any other suggestions? You can suggest whatever you want, it doesn't matter what it is.
Thanks, happy rest of the 2012 :) --va.va.voom 18:22, November 24, 2012 (UTC)
Ad blocker interference detected!
Wikia is a free-to-use site that makes money from advertising. We have a modified experience for viewers using ad blockers

Wikia is not accessible if you've made further modifications. Remove the custom ad blocker rule(s) and the page will load as expected.