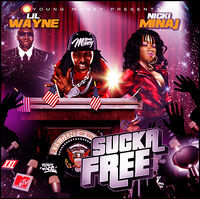 I got bored after listening to Kreayshawn's song Gucci Gucci, so i decided to listen to
Nicki Minaj
's mixtape
Sucka Free
.Now i'm gonna review the mixtape!
"If Biggie was alive, he would sign me"
He would sing you only if you didn't beef with Kim
Ad blocker interference detected!
Wikia is a free-to-use site that makes money from advertising. We have a modified experience for viewers using ad blockers

Wikia is not accessible if you've made further modifications. Remove the custom ad blocker rule(s) and the page will load as expected.