Hey guys, I've only today realized that I can revamp the entire wiki's theme, and I did get a request to do so before. I am skilled in Photoshop so I can make any change we want. I'm willing to take everyone's opinion into account, but I cannot guarantee that everyone will be satisfied with any changes I may make. Check out below and let me know if you have any ideas on what you want changed: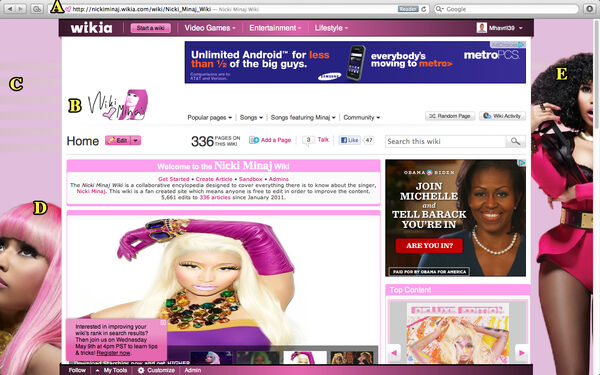 A—That little heart never seemed like quite the right icon for our site; the heart really doesn't have anything to do with Nicki. Any ideas? I could make a very tiny Nicki face.
B—Do you want to call this site "Wiki Minaj"? "The Nicki Minaj Wiki"? "Nickipedia"? Something else?
C—Shall we stick with the current pink background? We have to use a solid color.
D&E—Do you have two photos of Nicki in mind that you'd prefer over the current ones? You might want two from the Roman Reloaded photoshoot, or maybe an old one and a new one.
Again, I cannot satisfy everyone nor can i redo everything in a snap, but I still want to hear your input. Thanks! M. H. Avril 12:15, May 6, 2012 (UTC)
Ad blocker interference detected!
Wikia is a free-to-use site that makes money from advertising. We have a modified experience for viewers using ad blockers

Wikia is not accessible if you've made further modifications. Remove the custom ad blocker rule(s) and the page will load as expected.