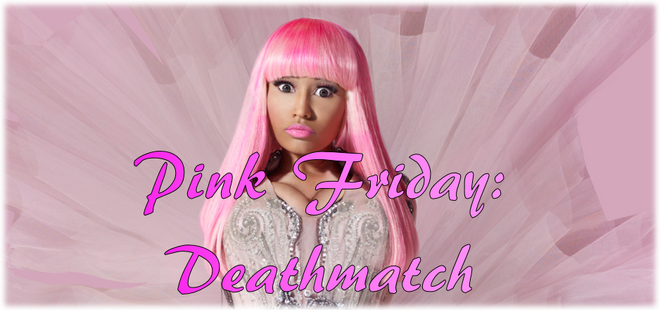 Winner
Runner-Up
---
THE TIME HAS COME! THE FINAL OF ALL FINALS! The dream-come-true classic "Moment 4 Life" faces against the inspirational hit "Fly".
Moment 4 Life beat fan favorite Roman's Revenge by a 9 point lead while Fly beat Nicki's 1st hit Your Love by 7 points. Now is the time to see which one of these crossover smashes is the best in here. Before we move on, lets congratulate the runner up songs. In our secret poll: Here I Am & Super Bass were tied for 5th place, Last Chance came in 6th place, and Muny came in 7th.
I now give you what may be the hardest rounds in Deathmatch history:
FINAL
Which of the following songs from "Pink Friday" is the MOST CLASSICAL, INSPIRATIONAL, EXTRAORDINARY AND BEST song from the album?
Third Place
Which song deserves the 3rd place in the Deathmatch?
Ad blocker interference detected!
Wikia is a free-to-use site that makes money from advertising. We have a modified experience for viewers using ad blockers

Wikia is not accessible if you've made further modifications. Remove the custom ad blocker rule(s) and the page will load as expected.