So I finally saw Nicki Minaj live!!!!!!!!!!!!!! Someone I knew gave me 2 tickets. It was in the NO(New Orleans). It was the best night of my life!!!! Can I just start off by saying Nicki Minaj has the highest voice I ever heard. On tv and stuff, her voice doesn't sound that high. But in person, she sounds like a chimpunk. I was kind of sad because 2 Chainz was on the stage for TOO LONG! He started at like 7:40 and ended around 8:30. They had to take his set down and put Nicki set up. She didn't go on until around 9:30. The concert ended at 10:30. Only 1 hour, but it was worth it.
Setlist
The Legend of Roman played and the curtains dropped. Blah,blah,blah.
She started rapping to Roman's Revenge with the usual black robe.
She took the black robe off and revealed wearing this. She then started Did It On'em.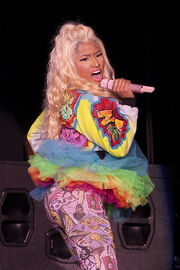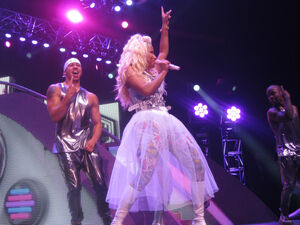 She went off stage again, and the DJ played Where Them Girls At. I think he played another song, but I can't remember.
She came back out wearing her Marilyn Monroe dress. She told the guys to sit down, shut up, and listen to what she was about to say, She said this session of the show was for the girls. She performed Fire Burns and then Save Me.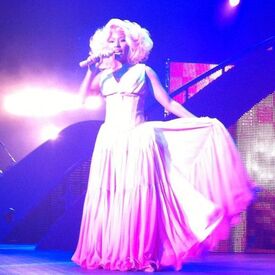 Now for the rest of the show, I may be off just a little bit. But then her suprise guest came out: Birdman. He performed one of his old songs. Then they performed Y.U. Mad. He then presented Nicki with another Platinum certification. He said something like it went platinum in 10-15 countries. He had to mean that it went Platinum in 10-15 countries together to make it Worldwide.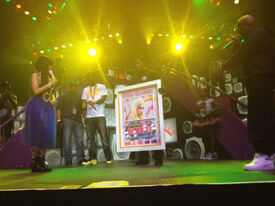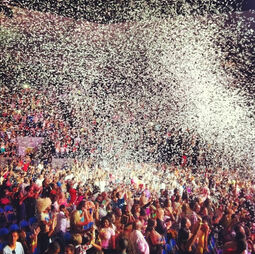 Ad blocker interference detected!
Wikia is a free-to-use site that makes money from advertising. We have a modified experience for viewers using ad blockers

Wikia is not accessible if you've made further modifications. Remove the custom ad blocker rule(s) and the page will load as expected.