Tyrone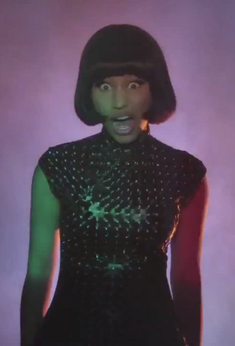 | | |
| --- | --- |
| Sexuality | Probably heterosexual |
| | |
| --- | --- |
| Featured in | TTWE (Remix), Tragedy |
Tyrone is an alter ego of Nicki Minaj, announced for the very first time by Norman in an UStream on May 7, 2011. He is a crackhead from Harlem and he appears in a few songs of Nicki when his voice turns into a voice of someone that is drunk or high. Norman revealed that Tyrone is rapping the last line of Minaj's verse at "Till the World Ends (The Femme Fatale Remix)": "What? What you tired? You need a break? You was hot when? Ricki Lake!".[1]
Appearances
Edit
The appearances of Tyrone are very short, all just a few lines.
References
Edit
Ad blocker interference detected!
Wikia is a free-to-use site that makes money from advertising. We have a modified experience for viewers using ad blockers

Wikia is not accessible if you've made further modifications. Remove the custom ad blocker rule(s) and the page will load as expected.