The Tonight Show with Jay Leno
is an American late-night talk show hosted by Jay Leno that initially aired from May 25, 1992 to May 29, 2009, and resumed production on March 1, 2010.
February 10, 2011 appearance
Edit
Nicki Minaj appeared on Thursday's February 10 Tonight Show with Jay Leno. Minaj performed "Moment 4 Life" in a rainbow-colored bodysuit covered in peace signs.
The talk show host had Nicki tickled pink. "I didn't know Jay Leno was so cute! Ha!" she gushed following the taping.
July 13, 2012 appearance
Edit
Nicki Minaj invaded the stage on Friday July 13, 2012. Dressed in a nude-colored bodysuit with strategically-placed pasties, Minaj performed her latest single "Pound the Alarm" and sat down on the couch.
During her interview, she reminisced about her previous job waitressing at Red Lobster. "I didn't want to be there and the customers could tell," said Nicki. "They always want too much bread. That's what bothered me. Please, if you go to Red Lobster, stop ordering extra bread."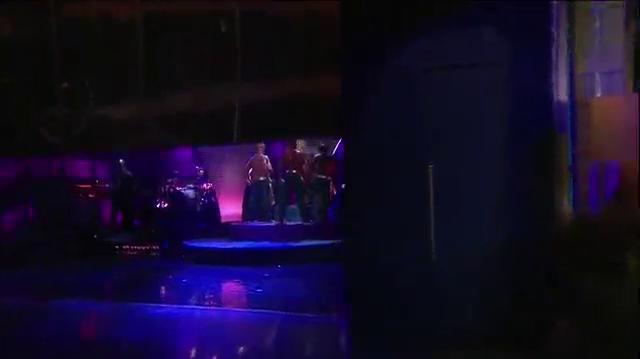 January 14, 2013 appearance
Edit
Nicki Minaj paid a visit to show on January 14, 2013. Looking grown and sexy in a short dress and pink blazer, the outspoken rapper discussed her new day job, reflected on her early career, and recalled auditioning at LaGuardia High School of Music & Art.
She told Jay about her first acting gig, where she was paid $750. But despite her charm, she wasn't able to steal the spotlight from her co-star, who was a porn star.
If she was president of the United States, the self-described "aggressive" driver's first order of business would be to legalize illegal U-turns.
The topic inevitably turned to her feud with fellow American Idol judge Mariah Carey. "It definitely isn't a fake feud," said Nicki, who called the pop diva one of her favorite artists. "A lot of it starts out that we're just joking, but we're passionate and we're both crazy. And then sometimes it just goes rarrr!"
She admitted that she has a temper, but she left it behind in 2012. "I'm on the road to recovery," laughed Nicki.
She also spoke about the crazy Idol auditions and one of her favorite contestants, a girl she nicknamed "Big Crazy Barb."
00:56

If Nicki Minaj Were President... - The Tonight Show with Jay Leno

00:36

Nicki Minaj No Temper in '13 - The Tonight Show with Jay Leno

00:34

Nicki Minaj On Feud With Mariah Carey - The Tonight Show with Jay Leno

11:09

Nicki Minaj Interview On Jay Leno
Ad blocker interference detected!
Wikia is a free-to-use site that makes money from advertising. We have a modified experience for viewers using ad blockers

Wikia is not accessible if you've made further modifications. Remove the custom ad blocker rule(s) and the page will load as expected.