Ad blocker interference detected!
Wikia is a free-to-use site that makes money from advertising. We have a modified experience for viewers using ad blockers

Wikia is not accessible if you've made further modifications. Remove the custom ad blocker rule(s) and the page will load as expected.
"The Creep" is a song by the comedian trio The Lonely Island featuring Nicki Minaj. It is on The Lonely Island's second album, Turtleneck and Chain. In the video, Minaj introduces a new alter-ego, Point Dexter. It was premiered as a SNL Digital Short on Saturday Night Live during her appearance on January 29, 2011.
Music Video
Edit
The video begins with an introduction by John Waters; the song begins, and the three members of The Lonely Island come out "doing the creep", the dance that the song revolves around. They are also dressed as "creepers", wearing grey suits, green ties, pencil mustaches and big-framed glasses. The video generally revolves around the lyrical content of the song, and the Lonely Island are seen creeping in various places. After the first two verses, Nicki Minaj raps the third verse from a female point of view as a "creeper", hiding in a locker in a male locker room. The video and the song end with a reappearance by John Waters, who seductively says, "Don't forget to smile!"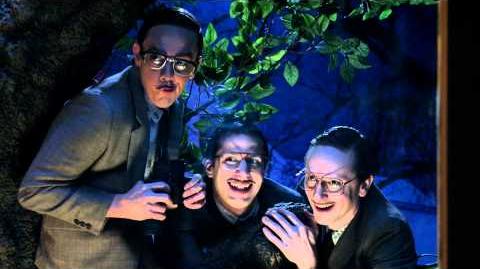 Minaj's lyrics
Edit



[Nicki Minaj]
When I was a girl, I creeped in the boys' locker room
Hide deep inside, it was my little creep stalker room
As they disrobed, I was oogling and oggling
Little did they know, that for me, they were modeling
And I would laugh, ha-ha-ha-ha-ha-ha-ha, ha.
And they would dance, la-la-la-la-la-la-la, la.
So pop-pop-pop your peepers,
and tweak out your sneakers
Don't sleep, come on get your Creep on with me!

[Nicki Minaj]
And when you sneak into a wake, and you see a beefcake
Do the Creep (hoo)
And do the Creep (hah)

[Nicki Minaj]
So, get your knees flexin, and your arms T-rexin'

[All]
And Creep (hoo)


Do the Creep! (hah)