The Chinese Tattoo
Comments

69
680pages on
this wiki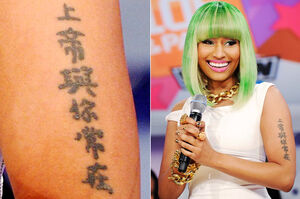 Nicki Minaj has only one tattoo. It is located on her left upper arm. It has a very special meaning.
This tattoo is Nicki Minaj's first and only. Written in Chinese, the tattoo means "God is always with you" in English. When asked about the tattoo, Minaj has said she regrets ever getting it. She said that she was young and foolish for getting it, and that if she could go back in time and stop herself from getting it, she would. 
Chinese sentences have a different structure to English, so directly translated it is:
上帝 = God
與 = with
你 = you
常 = always
在 = at
But put together it means "God is always with you."