Nicki Minaj
Pink Friday
Released
November 22, 2010 (album)
April 5, 2011 (radio)
May 13, 2011 (digital)
Format
Digital download, CD single
Genre
Electropop, dance-pop, hip hop
Length
3:20
Label
Young Money, Cash Money, Universal Motown
Writer
Nicki Minaj
Daniel Johnson
Ester Dean
Producer
Kane Beatz
Single information
Single release
April 5, 2011
Video release
May 5, 2011

←Last single
"Where Them Girls At"

Next single→
"Till the World Ends (The Femme Fatale Remix)"

Pink Friday deluxe edition track listing
"Super Bass" is track number 14.
Previous track
"Last Chance"
Next track
"Blow Ya Mind"
British Pink Friday (Super Bass Edition) track listing
"Super Bass" is track number 15.
Previous track
"Girls Fall Like Dominoes"
Next track
—
"Super Bass" is a song by Nicki Minaj on the deluxe edition of her debut album Pink Friday, featured as the first bonus track of the album and features background vocals by American singer Ester Dean. The song was the most commercially successful track off the album. The song is later mentioned in Minaj's song, "Come on a Cone" where she says, "Pink Friday two milli / "Super Bass" triple plat". On the Billboard Hot 100 the song broke the Top 10, peaking at number 3. The song also fared well digitally, reaching x5 platinum in Australia, 4x platinum in Austria, 1x platinum in New Zealand, and Gold in the U.K. Critics praised the fun pop/rap fusion that Minaj pulled off, and many fans of the album were happy as well. However, many of Minaj's old fans were not happy with, "Pop Nicki". Regardless, Super Bass ended being one of the most played, bought, and successful tracks for Nicki and overall in 2011. The song was featured on the Just Dance 4 video game that was released in October 2012. The song has sold over 4M copies in the US, but is 8x Platinum because of new streaming rules.
Music Video
Edit
Originally the video was set to premiere on the same show as where the preview was premiered on April 27, 2011, Minaj took to Twitter to reveal that the music video has been pulled from the show and would not be premiering that date for unknown reasons, tweeting "Super Bass is no longer coming out tmrw". The music video instead premiered on Minaj's official Vevo account on May 5, 2011.
I just wanted to do something real colorful and cutesy. This is an icy world, it's a sexy world, i love sexy thing, it's a playful world. Of course I have lots of eye candy for my girls and my boys [...] We have a lot of little surprises in store for this particular video, [...] I would like to put out 50 videos. The videos really tell the story a lot more elaborately than just the song does. 
Minaj explaining the video's inspiration.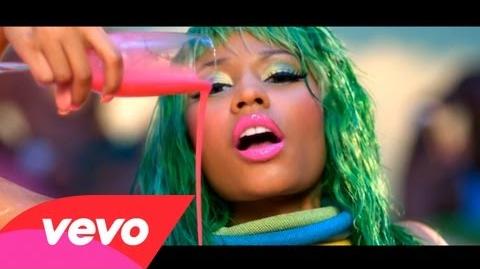 Behind the Scenes
Edit
References
Edit
Ad blocker interference detected!
Wikia is a free-to-use site that makes money from advertising. We have a modified experience for viewers using ad blockers

Wikia is not accessible if you've made further modifications. Remove the custom ad blocker rule(s) and the page will load as expected.