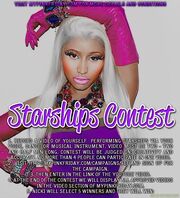 The Starships Contest was a competition to promote the lead single of Nicki Minaj's second album, "Starships." The contest was modeled after the Super Bass Contest that was held the previous year in the same month.
On May 26, Minaj tweeted that the Starships Contest's rules will be posted on her official website (MyPinkFriday.com) on Monday 28. She later posted the link to the rules and details about the concert[1]. She revealed that the winners will receive backstage tickets for the summer leg of the Pink Friday Tour.[2] The contest ended on June 1 at 3:00 PM (PST) (4 days after it begin) and the winners were supposedly to be announced on June 8 at Nicki Minaj's official website.[3] However, the winners weren't announced until June 25, 2012.[4]
Participate
Edit
The list of steps to participate were posted on Nicki Minaj official website, MyPinkFriday.com, on May 28:[5]
Record a video of yourself performing Starships via your voice, dance or musical instrument. Video must be Two - Two and half min long. Contest will be judged on: creativity and accuracy. No more than 4 people can participate in one video.
Visit http://mypinkfriday.com/campaigns/913 and sign up for the campaign.
Then enter in the link of the youtube video.
At the end of the contest we will display ALL APPROVED videos in the video section of MyPinkFriday.com.
Nicki will select 5 winners and they will win: Tickets and passes for you and a guest, (or a ticket and pass for each person participating in the video if there is more than 1 person in your video) to meet Nicki on the Pink Friday tour.</small>
The rules or conditions to participate were posted also on MyPinkFriday.com:[6]
By entering or participating in the Nicki Minaj Starships Video (the "Contest") you agree to all of the following rules:
How to Enter: No purchase or other consideration is necessary to enter the Contest. The Contest will be announced on the Nicki Minaj Official Website ("MY PINK FRIDAY") web site, www.mypinkfriday.com and in certain cases members will receive e-mail announcements of the Contest if they request such announcements. Members of MY PINK FRIDAY may enter the Contest by the simple online click procedures available on the MY PINK FRIDAY web site and by submitting a link of their video they made and posted on youtube. All members of MY PINK FRIDAY may also enter by mailing a 3" x 5" postcard containing the full Contest name, which must be exact, your name, home address and telephone number or e-mail address and date of birth to Nicki Minaj Starships Contest c/o Ground(ctrl) Contesting, 808 R. Street Suite B, Sacramento, CA 95811. Any error or omission in the information on the card will void the entry. Limit one entry per person. By participating, all entrants agree to abide by these Official Rules.
Eligibility: Open to all ages. Employees of all associated companies and their respective affiliates and members of such employees' immediate families or households are ineligible to participate in the Contest.
CONTESTANTS UNDER THE AGE OF 18 MUST BE ACCOMPANIED BY AN ADULT (ADULT IS NOT REQUIRED TO BE IN THE VIDEO).
Entry Deadlines: All entries for the Contest must be received by Ground(ctrl) on or before June 1, 2012 at 3PM PST . Winners will be selected from submissions scheduled for June 8th.
Winner Selection and Notification: The odds of winning are dependent upon the number of eligible entries received. All drawings will be conducted under the supervision of Ground(ctrl) and Nicki Minaj. The decisions of Ground(ctrl) and Nicki Minaj are final and binding in all matters relating to the Contest. Any attempted second entry shall be discarded and the entrant may be disqualified from the Contest at the discretion of Ground(ctrl) and Nicki Minaj. Entries are the property of Ground(ctrl) and will not be returned. Entrants need not be present at the drawing to win a prize. Winners will be notified by telephone or email. If a winner cannot be reached after a reasonable effort has been made, or if an entrant is found to be ineligible, an alternate winner may be selected. Winners will be selected from all eligible entries received. Winner will be required to sign and return a release and affidavit before claiming prize.
There were initally supposed to be 5 winners, but Nicki picked an extra 2, making a total of 7 winners.[7]
OMGitsLynsey
Crunkcoco
Shanel Bailey
@Tokyo Forever
FeelTheMusic9
MINAJmyYOU2be
MrLu4ever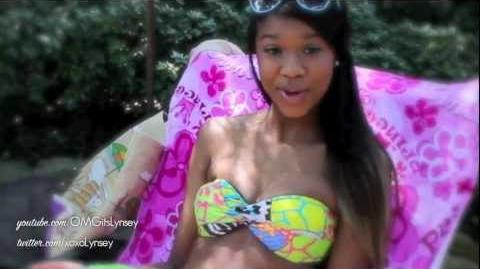 01:22

Dads Be There For Your Sons Boy Breaks It Down To Nicki Minaj's Starships! BY CRUNKCOCO

02:36

Shanel Bailey - Starships Music Video (Starships Contest)
References
Edit
Ad blocker interference detected!
Wikia is a free-to-use site that makes money from advertising. We have a modified experience for viewers using ad blockers

Wikia is not accessible if you've made further modifications. Remove the custom ad blocker rule(s) and the page will load as expected.