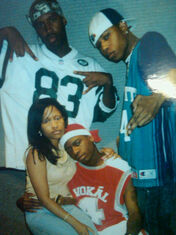 Seven Up (also known as 7Up, 7even Up or Svn-Up) is a rapper that was in a group called The Hood$tars, along with Nicki Minaj, Lou$tar, and Scaff B.
Sometime between the breakup of The Hood$tars and 2009, Seven Up was incarcerated at Coxsackie Correctional Facility. Minaj later shouted him out on her track "Go Hard", in which she says "This is for my nigga Seven Up in Coxsackie."
Ad blocker interference detected!
Wikia is a free-to-use site that makes money from advertising. We have a modified experience for viewers using ad blockers

Wikia is not accessible if you've made further modifications. Remove the custom ad blocker rule(s) and the page will load as expected.