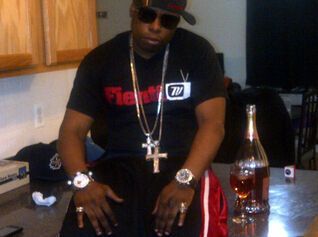 Ru Spits, a Queens native natural born hustler, businessman, and lyricist; has already marked his spot as one of the undergrounds greatest. Having made records with some of hip hop's favorites including Juelz Santana, Nicki Minaj, Stack Bundles, JR Writer, Pitbull and many more, RuSpits is prepared to let the industry know exactly who he is.
After getting shot at 15 years old Ru Spits decided to take his music career to the next level starting fire and ice ent with local friends Allen, Big Tyme, Brutus, Steve, Bundy Crum, Lundy and Bryan Doe Pesci Antoine starting of as a production company that has created tracks for artist like Cam'ron, Lloyd Banks and many more.
Growing up listening to hip-hop legends like RUN DMC, LLcool j and Slick Rick, Notorious B.I.G., Nas, Jay-Z and Snoop Dog now has Ru Spits patiently waiting for his turn and he is now ready to showcase his talent to the world. Having passed up opportunities to sign with several prominent hip-hop labels, he said "I'm holding out for the right situation. My talent needs to be heard and represented by the right team of people that will take my career to the next level." RuSpits is currently working on a new mixtape/dvd material.
Collaborations with Minaj
Edit
Ru Spits has collaborated with Nicki Minaj on the following songs.