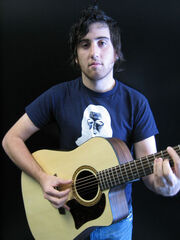 Ross Golan
(born April 8, 1980) is a platinum selling songwriter who's originally from the north suburbs of Chicago. He studied music at the University of Southern California and has since written songs that include
Nicki Minaj
's "
Marilyn Monroe
", Cee Lo Green's "Anyway",
Justin Bieber
's "Take You", Maroon 5's "Wipe Your Eyes", Demi Lovato's "Hold Up" amongst many others. He's had multiple record deals as an artist as well. The first was in 2003 with Insider Trading Corporation/EMI which was a label Golan started while in school. The label teamed up with EMI's then president, Phil Quatararo, and released "Reagan Baby". After that, Ross co-founded Glacier Hiking which had a hybrid publishing/label deal with Lionsgate. The band released a self titled EP before breaking up in 2009. Throughout both projects, Ross has been developing a one man musical called, The Wrong Man which is about a man who's wrongly accused of the crime committed in the song "Folsom Prison Blues". It's slated to go to stage in 2013.
Collaborations with Minaj
Edit
Ross Golan has collaborated with Nicki Minaj on one song.
Ad blocker interference detected!
Wikia is a free-to-use site that makes money from advertising. We have a modified experience for viewers using ad blockers

Wikia is not accessible if you've made further modifications. Remove the custom ad blocker rule(s) and the page will load as expected.