Ad blocker interference detected!
Wikia is a free-to-use site that makes money from advertising. We have a modified experience for viewers using ad blockers

Wikia is not accessible if you've made further modifications. Remove the custom ad blocker rule(s) and the page will load as expected.
Not to be confused with Playtime Is Over (song).
Playtime Is Over is the debut mixtape by Nicki Minaj. It was released on July 5, 2007 by Young Money Entertainment and Dirty Money Entertainment. The mixtape includes guest appearances by Lil Wayne, Angel DeMar, and New York natives Gravy, Ru Spits, Hell Rell, Red Café, Murda Mook and Ransom.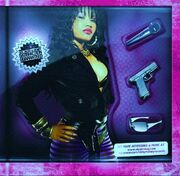 Track listing
Edit
| No. | Title | Original instrumental | Length |
| --- | --- | --- | --- |
| 1. | "1-900-Ms-Minaj" (featuring Hell Rell, Red Café, Murda Mook, Ransom & Gravy) |   | 4:48 |
| 2. | "Dreams '07"   | "Just Playing (Dreams)" by The Notorious B.I.G. | 2:39 |
| 3. | "Wuchoo Know"   | "Lip Gloss" by Lil Mama | 2:18 |
| 4. | "Interlude" (Lil Wayne only) | "Upgrade U" by Beyoncé & Jay-Z | 1:50 |
| 5. | "Can't Stop Won't Stop" (featuring Lil Wayne) | "Can't Stop, Won't Stop" by Young Gunz | 2:26 |
| 6. | "Playtime Is Over"   | "We Takin' Over" by DJ Khaled, Akon, T.I., Rick Ross, Fat Joe, Birdman & Lil Wayne | 1:46 |
| 7. | "Jump Off '07"   | "Jump Off" by Lil' Kim & Mr. Cheecks | 2:24 |
| 8. | "Click Clack"   | "Click Clack" by Slim Thug & Pusha T. | 4:02 |
| 9. | "40 Bars"   | "Banned from T.V." by Noreaga, Nature, Cam'ron and The Lox. | 2:09 |
| 10. | "Dilly Dally"   | "Kingdom Come" by Jay-Z | 3:03 |
| 11. | "Warning"   | "Warning" by The Notorious B.I.G. | 2:52 |
| 12. | "N.I.G.G.A.S." (featuring Angel DeMar) |   | 3:48 |
| 13. | "Sunshine" (featuring Gravy) | "Sunshine" by Jay-Z featuring Foxy Brown | 2:39 |
| 14. | "Letcha Go"   | "Can't Let You Go" by Fabolous, Lil Mo, & Mike Shorey | 2:37 |
| 15. | "Sticks In My Bun"   |   | 2:46 |
| 16. | "I'm Cumin"   | "Mo Money Mo Problems" by The Notorious B.I.G., Diddy, and Mase | 2:03 |
| 17. | "Freestyle"   | "Yeah Yeah Yeah" by Terror Squad | 1:01 |
| 18. | "Hood Story"   |   | 1:59 |
| 19. | "Ease Up" (featuring Ru Spits) |   | 3:39 |
| 20. | "Encore '07"   | "Numb/Encore" by Jay-Z & Linkin Park | 4:10 |