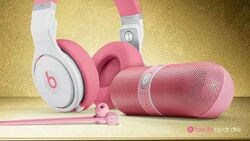 Pink Beats Collection (also known as Pretty in Pink Beats and I.AM.QUEEN) are Nicki Minaj's brand of products in the Beats by Dr. Dre line. She teamed up with Dr. Dre's Beat Electronics, LLC (Beats) which is the leading audio brand co-founded by Dr. Dre and Jimmy Iovine to launch a collection of beats. Minaj's line will consist of the "pink pill" speakers, Beats Pro headphones, and urBeats earphones. The speaker is featured in numerous Nicki Minaj videos: "High School", "Up In Flames", "Freaks", and "Get Like Me".
Background
Edit
On April 2, 2013, Nicki Minaj announced that she would have her own beats products by Dr. Dre. She had inked a deal with Dr. Dre's Beat Electronics, LLC (Beats). All of her products with come in "Nicki Minaj Pink" as she described it on Twitter.
"I knew the

Barbz

would not only love it, but that they'd want it in pink! So, here ya go Barbz!!!! My PINK PILL!!!"
Release and promotion
Edit
The "pink pill" was released exclusively to AT&T stores nationwide on April 3, 2013, and through BeatsByDre.com starting on April 5, 2013. It was available for purchase at Beats By Dre's New York SoHo store. It is also available at att.com. The cost for the speakers is $199.95. The pink urBeats earphones was released on July 11, 2013. The cost for the earphones is $99.95. The Beats Pro headphones was released in November 2013. It is available at Best Buy for $399.95. The campaign name for the collection is I.Am.Queen.
Commercial
Edit
American Idol
on April 10, 2013. Nicki confirmed that a song from
The Re-Up
will be featured in the video, which is "
High School
". The commercial features a cameo from comedian DeRay Davis and "Pinkpilltina" which is portrayed by Tichina Arnold.
Behind the scenes
Edit