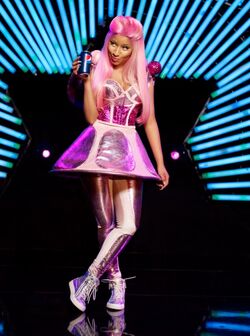 Pepsi: Now in a Moment is a May 2012 Pepsi commercial featuring Nicki Minaj.
Background
Edit
On March 19, 2012, Forbes reported that Nicki signed a seven-figure endorsement deal with Pepsi expected to include an international commercial and a gig as the face of already popular original Pepsi Cola. She is also expected to be spokeswoman for a new natural soda called "Pop" in the fourth quarter.
The international commercial was filmed in February in Argentina where footage was leaked on YouTube. As the face of Pepsi, the commercial featuring Nicki aired on May 7, 2012. The commercial, titled "Now in a Moment," features a freshly remixed version of Minaj's hit "Moment 4 Life" and will be a part of Pepsi's global campaign, "Live For Now".
Behind the Scenes
Edit
In a behind the scenes interview, Minaj talked about being inspired by Beyoncé and getting the idea of "Moment 4 Life" from Irv Gotti. The director also talks about the inspiration of the commercial and why he chose Nicki.
01:33

Pepsi Now In a Moment (Extended Cut)

02:58

NICKI MINAJ PEPSI COMMERCIAL - FIRST LOOK