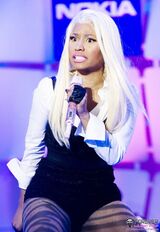 The Nokia Lumia 900 launch event was a concert made on April 6, 2012 with the surprise performance by rapper and singer Nicki Minaj. The objective of the concert was to make promotion of the new cellphone of Nokia, the Nokia Lumia 900.
Background
Edit
On April 3, Nokia announced that it would be throwing a special party for its Lumia 900 launch. Anyone could attend the concert as long as he or she could be in New York City's Times Square on the evening of Friday, April 6. Nokia also announced that at 7:00PM there would be a "live performance with a special guest." Though Nokia didn't exactly hold back for its Lumia 800 launch event in London the last year, all indications are that the Lumia 900 will get even more attention.[1]
Nicki Minaj performance
Edit
The concert was held on Times Square, New York, on April 6, 2012, with Nicki Minaj performing live. She performed "Starships," "Right by My Side," and "Super Bass" to a "fairly massive crowd that was certainly very receptive to the whole scene"[2], commented Daniel Rubino from wpcentral. "After the songs they introduced the Nokia Lumia 900 while a DJ spun some music—it was similar to the London-Deadmau5 event, though obviously not as massive. To the side, while the music was pumping, a giant high resolution LCD screen showed off an exciting light show leading up the Lumia 900 finally appearing".
Nicki said about the concert: "To see the idea on paper was amazing but to see it for real blew me away. It brought Times Square to a standstill. The absolute bonus for me is that my fans, who have been so loyal to me, are now part of the video for the Starships Nokia remix." "Performing in my home town of NYC," she continued, "the same week as the release of my new album, Pink Friday: Roman Reloaded is amazing and it really is a dream come true."[3]
Starships (Doorly Remix)
Edit
At the end of Minaj's performance she revealed her fans that footage from the concert will serve as Nokia's exclusive remix to the "Starships" video.
References
Edit
Ad blocker interference detected!
Wikia is a free-to-use site that makes money from advertising. We have a modified experience for viewers using ad blockers

Wikia is not accessible if you've made further modifications. Remove the custom ad blocker rule(s) and the page will load as expected.