Nicole
| | |
| --- | --- |
| Personality | Happy, cherish |
Nicole is an alter ego of Nicki Minaj who appeared for the first time in an interview between her and Nicki. She is portrayed as a very sweet and girly interviewer with a valley girl accent.
Ever since Nicole's first appearance, Nicki has been sporting the infamous Nicole wigs in videos such as "I'm Out," "Love More," My Nigga Remix and "High School." Some Barbz/Kenz/Boyz believe Nicole is an alter ego Minaj has been portraying this year. It is likely that Minaj stopped using her as she no longer wears wigs since 2015.
Pictures of Nicole or Nicole Hair
Edit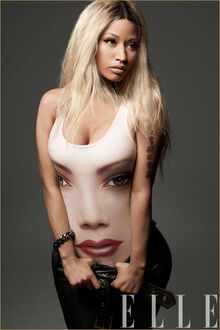 (my nigga Remix)
Ad blocker interference detected!
Wikia is a free-to-use site that makes money from advertising. We have a modified experience for viewers using ad blockers

Wikia is not accessible if you've made further modifications. Remove the custom ad blocker rule(s) and the page will load as expected.