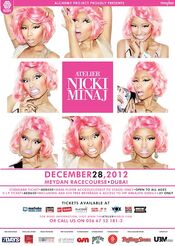 Nicki Minaj
had her first concert in Dubai (the largest city in the United Arab Emirates, or UAE) on December 28, 2012. It was be held at Meydan Racecourse by Dubai-based Alchemy Project, the organizers behind the concerts. In July of 2012, Nicki took to Twitter confirming that she would visit Dubai by tweeting, "We're making a stop in Dubai. Yaay!". The concert was supposed to take place in October, but it was pushed back to December for unknown reasons.
00:42

Nicki Minaj - Live in Dubai - Official Teaser (2012) HD

00:40

ATELIER NICKI MINAJ-28.12.2012-Meydan Racecourse v2
Nicki's Message to Dubai
Edit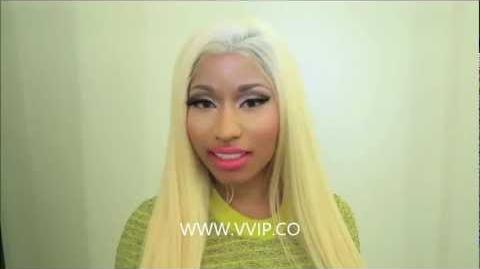 More Promo Posters
Edit
.
Other information
Edit
The concert will be open to all ages. Tickets are Dh450 (general access, the closest to the stage) and Dh650 (VIP lounge, which is on the sides of the general area, over 21s only. Vip ticket holders receive the same value of their ticket in complementary house beverages), on sale now at www,TheAtelierWorld.com, Virgin Megastores, Vox Cinemas, the Atelier stand at JBR's The Walk and at selected Enoc and Eppco petrol stations. Doors open at 8pm. Visit TheAtelierWorld.com for more information.
Nicki's Interview
Edit
Important info from interview:
"I think it's cool I really don't have an issue with being compared to Lady Gaga.
Mariah Carey we are two adult women and we had a disagreement, not that big a deal. I think the world has made it into a bigger deal than it really is."
"Of course. I'll wear an outfit and regret it the next day, all the time. "
"I'll ring in the New Year in Vegas with my friends"
Then I'll get started really quickly on my clothing line which will come out next year.
Then I'll started working on my third album, which I am really excited for. It'll be out hopefully soon.
I'll also be shooting my second video for the Re-Up album which I just put out. We might do a new video for I am Legit or High School so that's something that'll be fun. "
Ad blocker interference detected!
Wikia is a free-to-use site that makes money from advertising. We have a modified experience for viewers using ad blockers

Wikia is not accessible if you've made further modifications. Remove the custom ad blocker rule(s) and the page will load as expected.