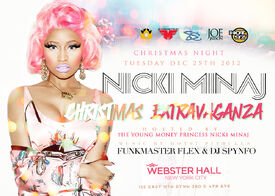 Nicki Minaj Christmas Extravaganza
was an event that was hosted by Nicki Minaj. It took place on Christmas Day (Tuesday December 25, 2012) and was held at Webster Hall at 10:00 PM EST in New York City. It was sponsored by Hot 97 and had music provided by Funkmaster Flex and DJ Spynfo. Webster Hall is a nightclub and concert venue located at 125 East 11th between 3rd and 4th Avenue. 
More info
Edit
http://websterhall.com/nightclub/nickixmas.php
Date: Tuesday, December 25, 2012
Time: 10:00 PM EST
Venue: Webster Hall
You needed to be 19+ to enter, 21+ to drink. For VIP packages, call (917)-302-0874. General Admission is $40.