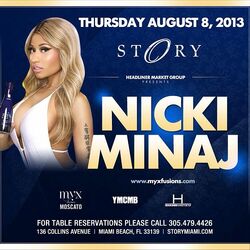 Nicki Minaj
hosted a
Myx Fusions in Miami
party to promote her new drink
Myx Fusions
 on August 8, 2013.
STORY & Headliner Market Group presents: NICKI MINAJ
is the advertisement ad for the event. It was held at Club Story on 136 Collins Ave. in Miami Beach, FL from 11PM-5AM.
Ad blocker interference detected!
Wikia is a free-to-use site that makes money from advertising. We have a modified experience for viewers using ad blockers

Wikia is not accessible if you've made further modifications. Remove the custom ad blocker rule(s) and the page will load as expected.