Juicy J
Pure THC: The Hustles Continues
Features
Nicki Minaj, Young Thug, Lil Bibby
Released
August 7, 2014
Recorded
2014
Format
Digital download
Genre
Hip-Hop, Rap
Length
3:59
Label
Kemosabe, Columbia
Writer
Jordan Houston, Onika Maraj, Brandon Dickerson
Producer
Dr. Luke, Cirkut, Planet VI
Single information
Single release
September 9, 2014
Video release
August 21, 2014

←Last single
"Flawless Remix"

Next single→
"Touchin, Lovin"

"Low" is a song by Juicy J from his fourth studio album Pure THC: The Hustle Continues, which features guest vocals from Nicki Minaj, Young Thug, and Lil Bibby. The song serves as the lead single from the album. The song was released online on August 7, 2014, was available for digital download the same day, and was sent to Urban radio on September 9. A music video was shot for the song on August 2, and premiered on August 21.
Background
Edit
On June 20, 2014, Dr. Luke tweeted a thank-you to Nicki Minaj for sending a verse for a Juicy J song he produced. On July 15, he tweeted that the song was called "Low" and that it also featured Young Thug and Lil Bibby. On August 6, Juicy J announced he was releasing the song the next day. The song impacted Urban radio on September 9, 2014.
Music Videoes
Edit
Music Video
Information

Juicy J feat. Nicki Minaj, Lil Bibby, and Young Thug - Low

Premiere
August 21, 2014
Filmed
August 2, 2014
Director
Benny Boom
Producer
Monica Monique
Production co
London Alley
Exec. producer
Luga Podesta, Brandon Bonfiglio
Editor
Choreographer
Length
4:00
Source
[1]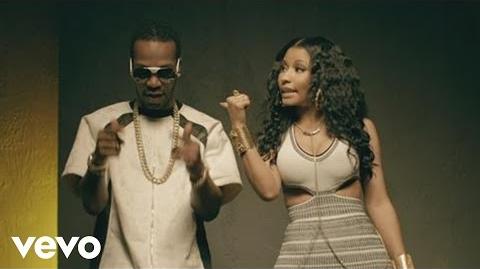 The video was shot on August 2, 2014 by Benny Boom. It premiered on 106 & Park and VEVO later that day on August 21, 2014.
Chart (2014)
Peak
position
US Hot R&B/Hip-Hop Songs (Billboard)
46