Lap Dance Nika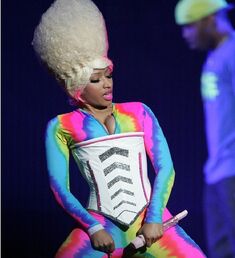 | | |
| --- | --- |
| Personality | Sexual, daring, cool, erotic |
| | |
| --- | --- |
| First Appearance | I Am Music Tour |
| | |
| --- | --- |
| Featured in | I Am Music Tour, Super Bass video |
Lap Dance Nika[2] is an alter ego of Nicki Minaj. She appeared on Lil Wayne's I Am Music II Tour during an interlude in the show. In the interlude, Nika gave a random fan from the crowd a lap dance, Lil Wayne Received a lap dance. Nika Retired on May 1, 2011. But came back at the 2013 billboard Music Awards to give Lil Wayne a lap dance while performing "High School".[3]
Lap Dance Nika was a name given to the alter ego to Minaj by Team Minaj over Twitter, which Minaj herself confirmed as the official name. "The one that comes out with the lap dances on stage, I think that's Lap Dance Nika. Let's call her Lap Dance Nika," she said on Los Angeles' Power 106. "Some of my fans, my Team Minaj Barbz, they've called me that sometimes on Twitter, so I thought it was cute, so we'll call her Lap Dance Nika."
She later said that she isn't going to do lap dances on Britney Spears' Femme Fatale Tour. "This will be my last round of lap dances," she said on the interview. "When I go [out] with Britney, no more lap dances."[4]
Nika is rumored to appear whenever a lap dance is needed (like the "Super Bass" music video, the performance at the Billboard Awards 2013, and the "Dance (A$$) (Remix)" video).
Appearances
Edit
"Dance (A$$) (Remix)" (rumored; video only, when she does lap dances)
"I Am Music II Tour" (Lil Wayne's tour)
"Super Bass" (rumored; video only, bridge and last chorus)
Billboard Music Awards 2011 (rumored; at the lap dance)
Billboard Music Awards 2013 (During the lap dance)
Pictures of Lap Dance Nika
Edit
References
Edit
Ad blocker interference detected!
Wikia is a free-to-use site that makes money from advertising. We have a modified experience for viewers using ad blockers

Wikia is not accessible if you've made further modifications. Remove the custom ad blocker rule(s) and the page will load as expected.