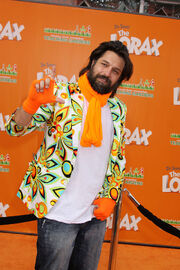 Allan Grigg
, also known as
Kool Kojak
, is a multi-platinum Brazilian-American songwriter, producer, film director, and artist notable for co-writing and co-producing
Flo Rida
's #1 Billboard hit single "Right Round". Kool Kojak has written and produced for artists such as
Ke$ha
,
Nicki Minaj
, Matisyahu, Travis Barker, The Lorax, Three 6 Mafia, Master P, Gorilla Zoe, Katy Perry, Bobby Brown, Pauly D, Victoria Justice, The Offspring, N.A.S.A., Dirt Nasty, Andy Milonakis, Mickey Avalon, Ursula 1000, and Warren G. Kool Kojak was a featured producer on the Simon Cowell TV program X Factor.
Collaborations with Minaj
Edit
Kool Kojak has collaborated with Nicki Minaj in one song:
Ad blocker interference detected!
Wikia is a free-to-use site that makes money from advertising. We have a modified experience for viewers using ad blockers

Wikia is not accessible if you've made further modifications. Remove the custom ad blocker rule(s) and the page will load as expected.