Jimmy Kimmel Live! is a late-night American talk show on ABC hosted by Jimmy Kimmel.
June 2010 appearance
Edit
On June 25, 2010, Drake was the musical guest on the program. For his second performance, he brought out Nicki Minaj for a special rendition of "BedRock".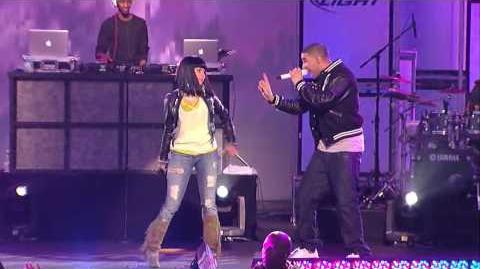 November 2010 appearance
Edit
On November 29, 2010, Nicki Minaj was the musical guest of the evening, there to support her album Pink Friday, which had been released earlier in the week. She performed "Right Thru Me" in a flat top afro.
January 2013 appearance
Edit
Nicki Minaj visited Jimmy Kimmel Live! on Friday January 25, 2013. With her Barbz in the audience, the blonde rap diva—clad in Roberto Cavalli—chatted about her American Idol gig, feud with Mariah Carey, and giving out nicknames to everyone from her mother to her fans; she even gave Guillermo his very own name. She later hit the outdoor stage to perform her Re-Up singles "Va Va Voom" and "Freedom" which were aired live, along with "High School", "I'm Legit", and "Roman in Moscow" which were not shown on television.
03:00

Nicki Minaj on Jimmy Kimmel Live PART 1

03:32

Nicki Minaj on Jimmy Kimmel Live PART 2

03:47

Nicki Minaj on Jimmy Kimmel Live PART 3

05:43

Nicki Minaj Performs "Va Va Voom" and "Freedom"

13:32

Nicki Minaj Jimmy Kimmel Live Performance
Ad blocker interference detected!
Wikia is a free-to-use site that makes money from advertising. We have a modified experience for viewers using ad blockers

Wikia is not accessible if you've made further modifications. Remove the custom ad blocker rule(s) and the page will load as expected.