Ice Age 4: Continental Drift
Comments

11
765pages on
this wiki
Ice Age: Continental Drift

Directed by
Steve Martino
Mike Thurmeier
Produced by
John C. Donkin
Lori Forte
Screenplay by
Michael Berg
Jason Fuchs
Story by
Michael Berg
Lori Forte
Starring
Ray Romano
John Leguizamo
Denis Leary
Nicki Minaj
Drake
Jennifer Lopez
Queen Latifah
Music by
John Powell
Cinematography
Renato Falcão
Editing by
James Palumbo
David Ian Salter
Studio
Blue Sky Studios
20th Century Fox Animation
Distributed by
20th Century Fox
Release date
June 27, 2012 (Europe)
July 13, 2012 (North America)
Running time
88 minutes
Country
United States
Language
English
Budget
$95 million
Box office
$877,244,782
view • talk
Ice Age 4: Continental Drift
[1]
is a movie from the
Ice Age
Quadrilogy where
Nicki Minaj
voices a Woolly Mammoth named Steffie. It was released on July 13, 2012. It starts with Scrat still trying to capture the acorn. But messing up, he accidently makes Sid, Diego, and Manny to set off drift. Diego later finds love wih a Saber Tooth named Shira (voiced by Jennifer Lopez). Later they encounter animal pirates. Throughout the movie, new characters are revealed like Ethan (voiced by Drake) and Steffie (voiced By Nicki Minaj).
Nicki revealed that she just said about five or six lines in the movie.[2]
Guest Roles
Edit
Preview of Nicki Minaj as Steffie
Edit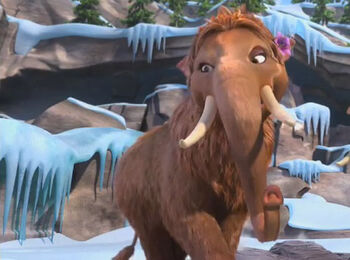 Trailer/Music Video
Edit
The trailer and Music Video for the movie was both released in June 2012.
References
Edit