I Am Music II Tour

Information
Associated album

Pink Friday

Tour Chronology
←
Previous
→
Next
The I Am Music II Tour was a tour headlined by Lil Wayne with opening acts Rick Ross and Nicki Minaj.
Minaj's Setlist
Edit
Intro (Video)
"Hold Yuh (Remix)" (Interlude)
"Fly"
"Save Me"
"Monster"
During Lil Wayne's set, Minaj and other members of Young Money, when present, join Wayne for "Bedrock" and "Roger That".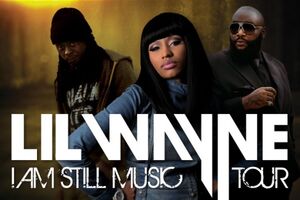 Ad blocker interference detected!
Wikia is a free-to-use site that makes money from advertising. We have a modified experience for viewers using ad blockers

Wikia is not accessible if you've made further modifications. Remove the custom ad blocker rule(s) and the page will load as expected.