Ad blocker interference detected!
Wikia is a free-to-use site that makes money from advertising. We have a modified experience for viewers using ad blockers

Wikia is not accessible if you've made further modifications. Remove the custom ad blocker rule(s) and the page will load as expected.
"I Ain't Thru" is a song by Keyshia Cole from her fourth studio album Calling All Hearts, which features guest vocals by Nicki Minaj. The song serves as the lead single from the album. It was written by Keyshia Cole, Russell Gonzalez, and Onika Maraj, and was produced by The ARE and Ron Fair. The song was officially released December 7, 2010, as a digital download. A music video was shot in Los Angeles, and premiered on November 12, 2010.
Music Video
Edit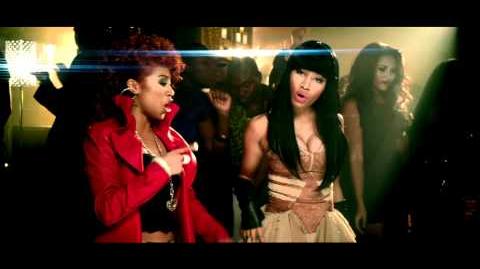 | | |
| --- | --- |
| Premiered | November 12, 2010 |
| Produced By | Benny Boom |
| Length | 4:09 |
Minaj's Verse
Edit
B-b-b-b-b bad bitch central
Check my credentials
Motherfucking right, you know it's Nicki on the intro
And I'm even bitchier when I'm on my menstrual
You ain't even got a credit card for incidental
Basic insurance and it don't include dental
Dental, dental, yes bitch I'm mental
Plus I'm in the big boy and it's not a rental
Shit ain't sweet unless it's the presidential
Y-Y-Y-Y-You a mutt
Tell her quack quack, she a motherfucking duck, duck, goose
She a Saturday Night Live spoof
One thing the coupe never got: roof!
Yeah I took the spot she gone, poof!
Me and KC, deuce!
Stay fly, you can call me "have a safe flight"
And my wrist froze, stage fright

Chart (2012)
Peak
position
US Hot R&B/Hip-Hop Songs (Billboard)
54