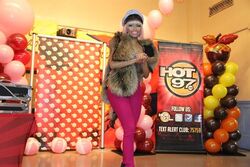 Nicki Minaj
teamed up with
Hot 97's Hip-Hop Has Heart Foundation
on November 19th to give out free turkeys to her old elementary school for Thanksgiving. Some of the recipients included victims of the recent Hurricane Sandy.
Over 600 people turned up to the P.S. 45 school, which is located in Queens, New York City. The Young Money Barbie also spoke to the kids to motivate them to stay in school before heading off to work on the Australian leg of her Pink Friday: Reloaded Tour.
Ad blocker interference detected!
Wikia is a free-to-use site that makes money from advertising. We have a modified experience for viewers using ad blockers

Wikia is not accessible if you've made further modifications. Remove the custom ad blocker rule(s) and the page will load as expected.