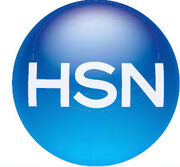 The
Home Shopping Network
(abbreviated to
HSN
) is an American broadcast, basic cable, and satellite television network. It was founded almost four decades ago, and is the first shopping network.
Sit down Interview
Edit
00:49

HSN Nicki Minaj The New Fragrance Minajesty - Exotic Edition

00:38

HSN Nicki Minaj Fans The New Fragrance Minajesty - Exotic Edition
Blog Post
Edit
HSN interviewed Nicki that was released in a blog post on July 7:
What direction would you like for your career to take in the next 5-10 years? A few more albums, a few movies, an official scholarship program, more business ventures like my Moscato (Myx Fusions) that I recently introduced to the market place. Of course, more fragrances and beauty products.
Are you excited for the release of your new album? I couldn't be more excited about the upcoming release of The Pink Print. Just knowing that my fans will have it in their hands this year makes me so happy. Every night in the studio I play the songs and I think what their favorites will be and how many new memories we will make with these songs on tour.
What was your thought process for picking the next scent of your new fragrance? I just go through fragrances and see which ones make me come alive. I need more than just a pretty smell, I need some sort of aromatherapy, I guess. I want the smell to translate to your attitude and make you feel good inside.
What made you want to go into the music industry? I wanted to take care of my family, and music was always the thing I drowned my fears in. I figured I could support my family and do what I loved at the same time.
Is pink still your favorite color? Forever and ever 'til I leave this planet.
Do you miss the extravagant clothes and wigs? I'm really loving where I am right now but I don't want people to think I'll never go back to costumes because that's still a big part of how I see myself. For now though, I love the more natural look.
When is your next tour planned? Top of 2015….see you guys soon!
HSN appearance
Edit
Nicki appeared on the network on July 11 to launch and promote her new fragrance, Minajesty Exotic.
52:44

HSN Nicki Minaj Exclusive Launch of Minajesty "Exotic Edition" Fragrance

01:03:46

NICKI MINAJ HSN
Ad blocker interference detected!
Wikia is a free-to-use site that makes money from advertising. We have a modified experience for viewers using ad blockers

Wikia is not accessible if you've made further modifications. Remove the custom ad blocker rule(s) and the page will load as expected.