David Guetta
Listen
Features
Nicki Minaj, Afrojack, Bebe Rexha (later addition)
Released
November 24, 2014
Recorded
2014
Format
Digital download
Genre
Pop
Length
3:12
Label
What A Music, Parlophone
Writer
David Guetta, Giorgio Tuinfort, Bebe Rexha, Ester Dean, Nick van de Wall, Sean Douglas
Producer
Guetta, Afrojack, Tuinfort, Dean
Single information
Single release
March 17, 2015
Video release
May 19, 2015

←Last single
"Truffle Butter"

Next single→
"The Night Is Still Young"

"Hey Mama" is a song by David Guetta from his sixth studio album Listen, which features guest vocals by Nicki Minaj and Afrojack, and later addition Bebe Rexha who at first was uncredited for singing the hook. The song serves as the fourth single off the album. The song was produced by David Guetta himself along with Afrojack, Giorgio Tuinfort, and Ester Dean. Writing credits go to Guetta, Tuinfort, Bebe Rexha, Ester Dean, Nick van de Wall, and Sean Douglas. The song was released as a digital download on November 24, 2014 in the UK and the US along with the rest of the album. It impacted Top 40 (Pop) radio on March 17, 2015. A music video was shot on April 8 (Nicki's part) and April 21 (the rest). It premiered on David Guetta's YouTube channel on May 19.
The song has peaked at #1 on the Billboard Hot Dance/Electronic Songs chart, becoming Nicki's first Top 10 and eventually #1 on that chart. She is the first female rapper to go #1 on that chart. Debuting at #70 on the Billboard Hot 100, it became Nicki's 61st entry and 36 as a featured artist on that chart. It is the 3rd out of all three of her and David Guetta's collaborations to reach Top 20 on Pop radio.
The song has been certified 2x Platinum in Canada, Platinum in Australia, Italy, New Zealand and the US, Gold in Germany, Spain and Sweden, and Silver in the UK. It is said Barbie is in this song.
Background
Edit
On October 6, 2014, it was confirmed that Nicki would feature of David Guetta's new album. In a French interview, David Guetta said she would sing and rap on the track. The song was later revealed to be called "Hey Mama" with the production and writing credits announced shortly after. The song was released as digital download in some countries on the 21st of November with album, but on the 24th in the US and UK during the release date of those two albums. It impacted Top 40 (Pop) radio on March 17, 2015.
Music Video
Edit
Music Video
Information

03:20

David Guetta - Hey Mama (Official Video) ft Nicki Minaj, Bebe Rexha & Afrojack

Premiere
May 19, 2015
Filmed
April 8 (Nicki) & April 21, 2015 (the rest)
Director
Hannah Lux Davis
Producer
Brandon Bonfiglio
Production co
London Alley
Exec. producer
Luga Podesta
Editor
Choreographer
Length
3:19
Source
[1]
Background
Edit
The music video was shot in the UK sometime in April (Nicki's parts) and LA on April 21, 2015 for the rest by Hannah Lux Davis. It premiered on David Guetta's Youtube channel on May 19, 2015.
Behind the Scenes
Edit
Lyric Video
Edit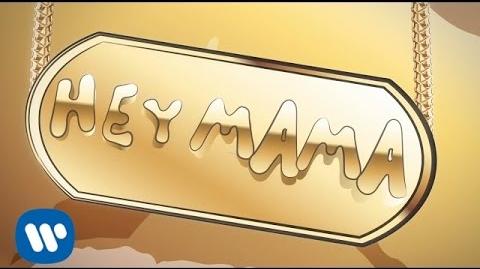 Chart (2015)
Peak
position
Australia (ARIA)
5
Austria (Ö3 Austria Top 40)
5
Belgium (Ultratip Flanders)
29
Belgium (Ultratop 50 Flanders)
9
Belgium (Ultratip Wallonia)
7
Belgium (Ultratop 50 Wallonia)
9
Canada (Canadian Hot 100)
9
Czech Republic (Rádio Top 100)
31
Czech Republic (Singles Digitál Top 100)
4
Denmark (Tracklisten)
13
Finland (Suomen virallinen lista)
6
France (SNEP)
6
Germany (Official German Charts)
9
Greece Digital Songs (Billboard)
1
Hungary (Dance Top 40)
7
Hungary (Single Top 40)
8
Indonesia (Creative Disc Top 50)
22
Ireland (IRMA)
5
Israel (Media Forest)
3
Italy (FIMI)
13
Japan (Japan Hot 100)
82
Lebanon (Lebanese Top 20)
2
Netherlands (Dutch Top 40)
12
Netherlands (Single Top 100)
11
New Zealand (Recorded Music NZ)
5
Norway (VG-lista)
13
Scotland (Official Charts Company)
8
Spain (PROMUSICAE)
9
Sweden (Sverigetopplistan)
6
Switzerland (Schweizer Hitparade)
10
UK Singles (Official Charts Company)
9
UK R&B (Official Charts Company)
2
US Billboard Hot 100
8
US Hot Dance/Electronic Songs (Billboard)
1
US Hot Dance Club Songs (Billboard)
30
US Pop Songs (Billboard)
2
US Rhythmic (Billboard)
1
Ad blocker interference detected!
Wikia is a free-to-use site that makes money from advertising. We have a modified experience for viewers using ad blockers

Wikia is not accessible if you've made further modifications. Remove the custom ad blocker rule(s) and the page will load as expected.