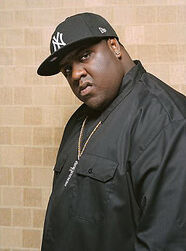 Jamal Woolard (born July 8, 1975), also known as Jamal "Gravy" Woolard, is an American actor, rapper, and comedian.
Woolard, like Christopher Wallace, is from Brooklyn, specifically L.G., Lafayette Gardens. In real life he raps under the name "Gravy". He is featured in the song "Untouchable" by Tupac Shakur on the Pac's Life album. he had to add over 50 pounds to his already large frame to play The Notorious B.I.G. in the film Notorious.
Woolard was previously known for being shot in the buttocks near radio station Hot 97 in 2006 and giving an interview on the Funkmaster Flex show directly afterwards. His music was later banned from play at the station as a result of a policy that bans "music by any artist who is involved in an altercation at the station."
On January 16, 2009, he was attending the opening of Notorious in Greensboro, North Carolina when he was shot at approximately 9:00 PM. The theatre was then evacuated and closed. He was treated at a nearby hospital and released.
He is featured in two tracks of Nicki Minaj's mixtape Playtime is Over, "1-900-Ms-Minaj" and "Sunshine". Minaj is featured in two tracks of Gravy, "Affirmative Action" and "Monstar Biz".
Collaborations
Edit
Ad blocker interference detected!
Wikia is a free-to-use site that makes money from advertising. We have a modified experience for viewers using ad blockers

Wikia is not accessible if you've made further modifications. Remove the custom ad blocker rule(s) and the page will load as expected.