Ad blocker interference detected!
Wikia is a free-to-use site that makes money from advertising. We have a modified experience for viewers using ad blockers

Wikia is not accessible if you've made further modifications. Remove the custom ad blocker rule(s) and the page will load as expected.
Pink Friday: Roman Reloaded - The Re-Up track listing
"Freedom" is track number 2.
Previous track
"Up In Flames"
Next track
"Hell Yeah"
"Freedom" is a song by Nicki Minaj from the re-release of Minaj's second studio album called Pink Friday: Roman Reloaded - The Re-Up. It serves as the lead single of The Re-Up, sixth single overall. It was written by Onika Maraj, Matthew Samuels, and Matthew Burnett, and it was produced by Boi-1da, and Matthew Burnett (co-producer). The song was first played on Tim Westwood BBC Radio 1Xtra in the UK on November 3, 2012, and was released as a digital download the same day but just in US and Canada. It was later released in the UK on November 8. A music video was shot on November 1 and premiered on November 19.
Background
Edit
On October 1, 2012, Nicki said on Twitter that she finished writing the Barbz's favorite song off The Re-Up.[1] The next day, a fan asked "what's the initials," and she simply replied, "F",[2] which is the song "Freedom."
Tim Westwood played the song for the UK Barbz for the first time on November 3, 2012, at his show called Tim Westwood BBC Radio 1Xtra.[3] The song was released as a digital download on November 3, 2012 in the US and Canada.[4] It was then released as a digital download on November 8, 2012 in the UK,[5] and on November 10 in Australia.[6] The song replaced "The Boys" as the lead single because of the lack of success of it. It was used as the official song for the Pink Friday fragrance commercial.
In 2012, a promotional CD single of the song was distributed under
Universal Republic
label.
[7]
The CD was not sold in stores, but it was distributed officially to DJs, radio, select media and special giveaway promotions.
The cover artwork is almost the same as The Re-Up cover artwork. It differs from the album cover because, instead of the full name of the album, it has written the name of the song ("Freedom") and has written down "From the release Pink Friday: Roman Reloaded The Re-Up" in capital letters.
Although the promo CD was officially distributed under Universal Republic label, the cover artwork is not taken as the official cover of the single, due to the means in which was released.
Composition
Edit
"Freedom" was written by Onika Maraj, Matthew Samuels, and Matthew Burnett,[8] and was produced by Boi-1da.[9] The song is a hip hop track with a light R&B ditty.[10] The song is also heavily influenced by pop and ambient music.
The song is over a drum-patterned beat.[11] Minaj reflects on her success and contemplates fame on the song, asserts her dominance, credits herself for opening doors for other females, and thanks her crew including Lil Wayne.[11] The song was compared to previous works of her like "Right Thru Me," "Your Love" and "Save Me" off Pink Friday.[12]
Critical reception
Edit
"Freedom" was received with general positive reviews from music critics which most of them praised Minaj for returning to her roots. Sam Gould from SoulCulture said that "might not mark an end to the bubblegum nonsense pop" but he praised the song for being "the best thing I've heard from her in a long while." [13] Trent from The Lava Lizard made a very positive review about the track commenting that the song "is a perfect reminder of Minaj's talent as a rapper and a welcome departure from her Pop-oriented attempts at crossing over."[14] Zach Frydenlund from Complex praised the song saying that "Minaj has blessed the world with her new single "Freedom" tonight."[15] He also congratulate the "nice flow" and the "great vocals."[15]
However, Kyle Anderson from Entertainment Weekly commented negatively about the track saying that "calling her career [Minaj's career] 'the pinkprint' is pretty clever, but the rest of it sounds like it could have been made by just about anybody."[16] He then scolded Minaj because "the most frustrating thing about [her] is that she seems to actively subvert the fundamental skills that let her stand out from any other rapper or pop star out there."[16] Randall Roberts from LA Times gave the song a very negative review calling the song "a shockingly mediocre humblebrag track."[17] He also criticized Minaj for not writing about the storm "Sandy" (that hit Minaj's home Queens), which devastated New York a week prior of the release of the track.[17]
Music Video
Edit
Music Video
Information

05:00

Nicki Minaj - Freedom (Explicit)

Premiere
November 19, 2012
Filmed
November 1, 2012
Director
Colin Tilley
Producer
Luti Fagbenie
Production co
Luti Media
Exec. producer
Jeffrey Panzer
Editor
Choreographer
Length
5:00
Source
Video Static: "Freedom"
Background
Edit
Nicki revealed on Alan Carr: Chatty Man that she was filming the music video of the next single off The Re-Up in the UK later that week.[18] Nicki said, in the interview, that the video was filmed in rain and it was freezing cold. On November 1, Nicki tweeted, "Shot the mystery video today in London".[19] It was later revealed that the music video was for "Freedom".[20] On Nicki's twitter she stated that the music video is supposed to hit on November 19, 2012 the same day of the release of the The Re-Up.[21] She then stated that the music video will premiered on 106 & Park, and it will be later available on VEVO at 7:15 PM (EST).[22] Colin Tilley directed the video.
Behind the Scenes Edit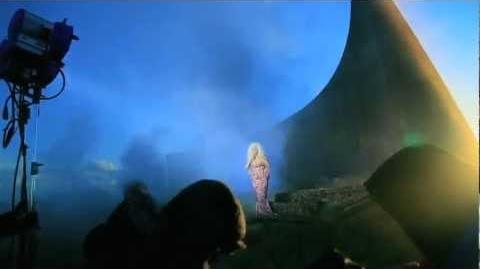 A behind the scenes video of "Freedom" was released on November 13, 2012,
[23]
and was produced and filmed by
Grizz Lee
. The video shows Nicki and her film team in a rainy day. The film team is carrying she with blankets to not ruin her dress because of the rain. Then she appears at a strange place on the outskirts of London with her dress of a mermaid style, and a wavy blond wig. She is also saw putting make-up, her staff team caring her in a chariot, a staff member falling down, and more scenes of the actual video.
Live performance
Edit
The song was performed on her Pink Friday: Reloaded Tour. Minaj performed the song for the first time in the US at the 2012 American Music Awards on November 18, 2012. She also performed the song on January 15, 2013, at The Ellen DeGeneres Show, and at Jimmy Kimmel Live! along with "Va Va Voom", "High School", "I'm Legit", and "Roman in Moscow" on January 25, 2013.
Recording:
Recorded at: Studio Malibu, Malibu CA
Mixed at: Studio Malibu, Malibu CA
Mastered at: Chris Athens Masters, Austin TX
Personnel:
Writers: Onika Maraj, Matthew Samuels, Matthew Burnett
Producers: Boi-1da
Co-producers: Matthew Burnett
Recorded by: Ariel Chobaz
Mixed by: Ariel Chobaz & Boi-1da
Mastered by: Chris Athens
Background Vocals by: LeKeisha Renee Lewis & Candace Marie Wakefield
The credits for "Freedom" are adapted from the liner notes of Pink Friday: Roman Reloaded - The Re-Up.[24]
Chart (2012)
Peak
position
UK R&B (Official Charts Company)
13
US Bubbling Under Hot 100 Singles (Billboard)
4
US Hot R&B/Hip-Hop Songs (Billboard)
31
US Rap Songs (Billboard)
23
Release history
Edit
Country
Date
Format
United States
November 3, 2012
Digital download[4][25]
Canada
United Kingdom
November 8, 2012
Digital download[5]
Australia
November 10, 2012
Digital download[6]
Explicit version
Edit
"Freedom" (Nicki Minaj) [Explicit][26]
Verse 1∶ Nicki Minaj
Don't ever thank me for opening doors
 But they ain't even thank Jesus when he died on the cross
'Cause ya spirit is ungrateful, bitches is so hateful
 I remain a staple
My career's been the Pinkprint
 When I retire, tell 'em think pink
Pink Friday is the imprint
 And these bitches basic, instinct
Oh shit, my commercial's on
 Did I really body bitches with commercial songs?
Did I really prophecy every thing I do?
But before I continue let me thank my crew
So that was Young Wayne, Mack Maine
 Baby & Slim came
 Tez & E.I. told me it wouldn't be in vain
Cause prior to me signing
 I could've went insane
 And even now I think do I really want this fame
Let me get up and go, 700 to go
Overseas for a show
Everybody get quiet when I'm starting the show
Man I'm birthing these artists
And I'm starting to show


Hook (2x)∶ Nicki Minaj
I feel free
I feel freedom
Why they mad?
You should see them
Burn a L
Cause it's crazy in here
Crazy in here
Crazy in here


Verse 2∶ Nicki Minaj
Who I wanna work with? Nobody
99% of dem, is nobody
Bitches acting like they killing shit, OK
When I check these bitches guns, no bodies
These niggas is fake fucks and opportunists
Niggas spend they last dime to say the copped the soonest
Why these niggas going broke to get ya approval?
Pretty soon, they'll be back up on dem Ramen Noodles
B-B-B-B-bible, Queen is the title
And if you are my rival, then that means you're suicidal
And if you in the club then it's a Young Money recital
I'm just that vital
I'm busy, never idle
I'm ya idol, I'm ya idol, I'm ya mothafuckin' idol
Pink Friday in Macy's
Thongs and some pasties
(Yo, what other female rapper perfume in there? Cuz I must've missed it)
12 milli to kick me feet up
Get ready this is the Re-Up


Hook∶ Nicki Minaj
I feel free
I feel freedom
Why they mad?
You should see them
Burn a L
Cause it's crazy in here
Crazy in here
Crazy in here


Bridge∶ Nicki Minaj
Mirror, mirror, won't you realize?
I just have to decide
What you hiding from?
What you hiding from?
Hiding baby
Would you, would you
Give ya
Would you, would you
Give ya
Would you, would you
Give ya all for you


Hook∶ Nicki Minaj
I feel free
I feel freedom
Why they mad?
You should see them
Burn a L
Cause it's crazy in here
Crazy in here
Crazy in here
Clean version
Edit
"Freedom" (Nicki Minaj) [Clean]
[Verse 1]
Don't ever thank me for opening doors
 But they ain't even thank Jesus when he died on the cross
'Cause ya spirit is ungrateful, b------ is so hateful
 I remain a staple
My career's been the Pinkprint
 When I retire, tell 'em think pink
Pink Friday is the imprint
 And these b------ basic, instinct
Oh s---, my commercial's on
 Did I really body b------ with commercial songs?
Did I really prophecy every thing I do?
But before I continue let me thank my crew
So that was Young Wayne, Mack Maine
 Baby & Slim came
 Tez & E.I. told me it wouldn't be in vain
Cause prior to me signing
 I could've went insane
 And even now I think do I really want this fame
Let me get up and go, 700 to go
Overseas for a show
Everybody get quiet when I'm starting the show
Man I'm birthing these artists
And I'm starting to show

[Hook, 2x] (2nd time w/ ad-libs)
I feel free
 I feel freedom
Why they mad?
 You should see them
Burn a L
 Cause it's crazy in here
 Crazy in here
 Crazy in here

 [Verse 2]
Who I wanna work with? Nobody
99% of dem, is nobody
B------ acting like they killing s---, OK
When I check these b------ guns, no bodies
These nsaggins is fake f---- and opportunists
Nsaggins spend they last dime to say the copped the soonest
 Why these nsaggins going broke to get ya approval?
 Pretty soon, they'll be back up on dem Ramen Noodles
B-B-B-B-bible, Queen is the title
And if you are my rival, then that means you're suicidal
And if you in the club then it's a Young Money recital
 I'm just that vital
I'm busy, never idle
I'm ya idol, I'm ya idol, I'm ya mothaf------ idol
Pink Friday in Macy's
 Thongs and some pasties
 (Yo, what other female rapper perfume in there? Cus I must've missed it)
12 milli to kick me feet up
Get ready this is the Re-Up

[Hook, 2x] (2nd time w/ ad-libs)
 I feel free
 I feel freedom
 Why they mad?
 You should see them
 Burn a L
Cause it's crazy in here
 Crazy in here
 Crazy in here

 [Outro, 2x]
Mirror, mirror, won't you realize?
I just have to decide
What you hiding from?
What you hiding from?
 Hiding baby

 [Outro, 2x]
 Would you, would you
 Give ya
 Would you, would you
 Give ya
 Would you, would you
 Give ya all for you

[Hook, 2x] (w/ ad-libs)
 I feel free
 I feel freedom
 Why they mad?
 You should see them
 Burn a L
Cause it's crazy in here
 Crazy in here
 Crazy in here
Live clean version
Edit
"Freedom" (Nicki Minaj) [Clean][27]
[Verse 1]
Don't ever thank me for opening doors
 But they ain't even thank Jesus when he died on the cross
'Cause ya spirit is ungrateful, chicks is so hateful
 I remain a staple
My career's been the Pinkprint
 When I retire, tell 'em think pink
Pink Friday is the imprint
 And these chicks basic, instinct
Oh snap, my commercial's on
 Did I really body 'em with commercial songs?
Did I really prophecy every thing I do?
But before I continue let me thank my crew
So that was Young Wayne, Mack Maine
 Baby & Slim came
 Tez & E.I. told me it wouldn't be in vain
Cause prior to me signing
 I could've went insane
 And even now I think do I really want this fame
Let me get up and go, 700 to go
Overseas for a show
Everybody get quiet when I'm starting the show
Man I'm birthing these artists
And I'm starting to show

[Hook, 2x] (2nd time w/ ad-libs)
I feel free
 I feel freedom
Why they mad?
 You should see them
Burn a L
 Cause it's crazy in here
 Crazy in here
 Crazy in here

 [Verse 2]
Who I wanna work with? Nobody
99% of dem, is nobody
They been acting like they killing it, OK
When I check them resumes, no bodies
These dudes is fake yo' and opportunists
They'll spend they last dime to say the copped the soonest
 Why are they going broke to get ya approval?
 Pretty soon, they'll be back up on dem Ramen Noodles
B-B-B-B-bible, Queen is the title
And if you are my rival, then that means you're suicidal
And if you in the club then it's a Young Money recital
 I'm just that vital
I'm busy, never idle
I'm ya idol, I'm ya idol, I'm ya mother in you idol
Pink Friday in Macy's
 Thongs and some pasties
 (Yo, what other female rapper perfume in there? Cus I must've missed it)
12 milli to kick me feet up
Get ready this is the Re-Up

[Hook, 2x] (2nd time w/ ad-libs)
 I feel free
 I feel freedom
 Why they mad?
 You should see them
 Burn a L
Cause it's crazy in here
 Crazy in here
 Crazy in here

 [Outro, 2x]
Mirror, mirror, won't you realize?
I just have to decide
What you hiding from?
What you hiding from?
 Hiding baby

 [Outro, 2x]
 Would you, would you
 Give ya
 Would you, would you
 Give ya
 Would you, would you
 Give ya all for you

[Hook, 2x] (w/ ad-libs)
 I feel free
 I feel freedom
 Why they mad?
 You should see them
 Burn a L
Cause it's crazy in here
 Crazy in here
 Crazy in here
References
Edit