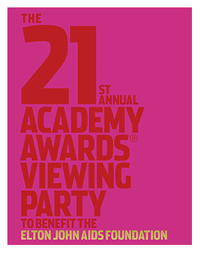 The Elton John AIDS Foundation Academy Award Party, also known as Elton John Oscar Party, is an annual party held every year in Los Angeles, California since 1993. The party is held every year to view the Oscars. It is also used to promote his AIDS Foundation. The 21st Oscar party was held on Sunday February 24, 2013 in West Hollywood. Many artist attended including Nicki Minaj who was there to support her 2013 Viva Glam lipstick which also helps people with AIDS.
Ad blocker interference detected!
Wikia is a free-to-use site that makes money from advertising. We have a modified experience for viewers using ad blockers

Wikia is not accessible if you've made further modifications. Remove the custom ad blocker rule(s) and the page will load as expected.