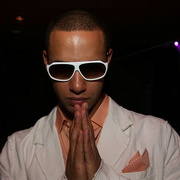 Julien Christian Lutz (born 1975), better known as Little X, X or Director X, is a Canadian music video director. He also has his own clothing line X Fit. He was born and raised in Toronto, Ontario, and is of Trinidadian and Swiss descent.
Julien Christian Lutz attended both Mayfield Secondary School and North Park Secondary School in Brampton, Ontario. A protégé of Hype Williams, X has been noted for his high-budget, visually distinctive music videos for popular music singles, including videos for R. Kelly, Usher, Kanye West, Jay-Z, Korn, Katy Perry feat Jessie J and Astro, Nelly Furtado, Sean Paul, Justin Bieber, Drake, Nicki Minaj and The Wanted. He is currently represented by DNA - David Naylor and Associates, Hollywood, CA.
His trademark is tweaking the letterbox format; instead of just using black bars on the top and bottom of the frame to frame the image, many videos by X actually feature the bars opening vertically to reveal the video and closing vertically at the end, like a letter box.
Collaborations with Minaj
Edit
He has collaborated with Nicki Minaj on two music videos as the director.
Ad blocker interference detected!
Wikia is a free-to-use site that makes money from advertising. We have a modified experience for viewers using ad blockers

Wikia is not accessible if you've made further modifications. Remove the custom ad blocker rule(s) and the page will load as expected.