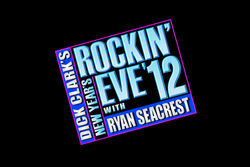 Dick Clark's New Year's Rockin' Eve with Ryan Seacrest
is an annual television special that airs every New Year's Eve on ABC, broadcasting live from festivities at New York City's Times Square. The special features performances from various contemporary artists, as well as coverage of the dropping of the Times Square Ball in New York City's Times Square. The program airs live in the Eastern Time Zone, and then on tape delay in the other areas of the United States so that the show is correlated to when midnight strikes in the other respective time zones.
Dick Clark's New Year's Rockin' Eve with Ryan Seacrest 2012, was once again hosted by Ryan Seacrest, with Dick Clark co-hosting what would become his last appearance on the program. Fergie co-hosted for the sixth consecutive year for the pre-taped Hollywood segments, while comedian Jenny McCarthy returned for her second year corresponding in Times Square. Musical guests in Times Square included Lady Gaga (who also joined Mayor Michael Bloomberg in activating the ball drop), Justin Bieber, Beyoncé, Pitbull and Hot Chelle Rae.
Performers in the Los Angeles segments included Taio Cruz, Nicki Minaj, Florence + the Machine, LMFAO, Gym Class Heroes, Blink-182, OneRepublic, The Band Perry, will.i.am, Christina Perri, and Robin Thicke. To celebrate the 40th anniversary of the first edition of New Year's Rockin' Eve, the primetime portion of the show was preceded by a two-hour retrospective broadcast from 8:00 PM to 10:00 PM ET/PT, counting down memorable musical performances from the show's history.
Nicki Minaj performance
Edit
Minaj performed three songs at the event. The first was her smash hit, multi-platinum single, and "Barbz fave", "Super Bass". She then performed her recently 2011 single with David Guetta, "Turn Me On", and later her Pink Friday: Roman Reloaded "tease" single "Roman in Moscow".
The performance features one of the best live performance ever done by Minaj. The performance by Minaj was one of the favorite among all the other performances at the event. The fans also were very happy with the amazing vocals of Minaj.
03:30

Nicki Minaj - Super Bass (2011 New Year's Rockin Eve)

03:29

Nicki Minaj - Turn Me On (2011 New Year's Rockin Eve)

01:45

Nicki Minaj - Roman In Moscow (2011 New Year's Rockin Eve) HD 720p
Ad blocker interference detected!
Wikia is a free-to-use site that makes money from advertising. We have a modified experience for viewers using ad blockers

Wikia is not accessible if you've made further modifications. Remove the custom ad blocker rule(s) and the page will load as expected.