Ad blocker interference detected!
Wikia is a free-to-use site that makes money from advertising. We have a modified experience for viewers using ad blockers

Wikia is not accessible if you've made further modifications. Remove the custom ad blocker rule(s) and the page will load as expected.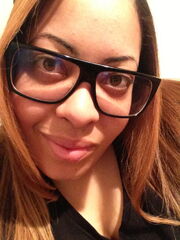 Candace Marie Wakefield (born September 14), also known as  SupastarC , is a singer/songwriter/vocalist. She is a backup singer from the Pink Friday Tour Pink Friday: Reloaded Tour And the pink print tour. She is credited on The Re-Up for background vocals on Minaj's "Freedom".
Collaborations with Minaj
Edit
Wakefield has collaborated with Nicki Minaj in:
Background vocals
Edit
"Freedom"
BG Vocals on AMA Music Awards
BG vocals on Billboard Music Awards
Featured on NICKI MINAJ MY TRUTH E SPECIAL
BG Vocals for NICKI MINAJ on Jimmy Kimmel Live
BG Vocals for NICKI MINAJ on Ellen DeGeneres Show
Featured BG vocalist on Kendrick Lamar's I (I love myself) "To pimp a butterfly" Featured BG Vocalist on JLO "Love make the world go round" BG vocalist Keyshia Cole Remember pt 2