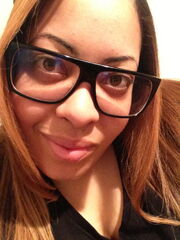 Candace Marie Wakefield (born September 14), also known as  SupastarC , is a singer/songwriter/vocalist. She is a backup singer from the Pink Friday Tour Pink Friday: Reloaded Tour And the pink print tour. She is credited on The Re-Up for background vocals on Minaj's "Freedom".
Collaborations with Minaj
Edit
Wakefield has collaborated with Nicki Minaj in:
Background vocals
Edit
"Freedom"
BG Vocals on AMA Music Awards
BG vocals on Billboard Music Awards
Featured on NICKI MINAJ MY TRUTH E SPECIAL
BG Vocals for NICKI MINAJ on Jimmy Kimmel Live
BG Vocals for NICKI MINAJ on Ellen DeGeneres Show
Featured BG vocalist on Kendrick Lamar's I (I love myself) "To pimp a butterfly" Featured BG Vocalist on JLO "Love make the world go round" BG vocalist Keyshia Cole Remember pt 2
Ad blocker interference detected!
Wikia is a free-to-use site that makes money from advertising. We have a modified experience for viewers using ad blockers

Wikia is not accessible if you've made further modifications. Remove the custom ad blocker rule(s) and the page will load as expected.