Barbershop

Directed by
Malcolm D. Lee
Produced by
Ice Cube
Robert Teitel
George Tillman, Jr.
Written by
Kenya Barris
Tracy Oliver
Based on
Characters created for Barbershop by Mark Brown
Starring
Ice Cube
Cedric the Entertainer
Eve
Regina Hall
Nicki Minaj
Anthony Anderson
Common
Tyga
Editing by
Paul Millspaugh
Studio
New Line Cinema
Metro-Goldwyn-Mayer
CubeVision
Distributed by
Warner Bros. Pictures
Release date
April 15, 2016
Country
United States
Language
English
view • talk
Barbershop: The Next Cut is an upcoming 2016 American comedy film directed by Malcolm D. Lee, produced by Ice Cube, Robert Teitel, and George Tillman, Jr. and written by Kenya Barris & Tracy Oliver. It was distributed by Warner Bros. Pictures, and produced by studios such as New Line Cinema, Metro-Goldwyn-Mayer, and CubeVision. It is a sequel to the 2002 film Barbershop, the 2004 film Barbershop 2: Back to Business, and the 2005 spin-off Beauty Shop. It serves as the third film in the Barbershop film series, and fourth in the entire franchise. The film focuses on Calvin Palmer (Ice Cube) and his employees at his barbershop in a urban community.
The film will be released on April 15, 2016.
This will be Nicki Minaj's second live-action film as she plays sassy hairstylist Draya, and her third in total after cameo appearances in Ice Age: Continental Drift and The Other Woman. This movie, however, will be her biggest role to date.
Background
Edit
On March 26, 2015, Deadline.com reported that Nicki Minaj along others was in talk to join the film. It was confirmed on May 4 that she would indeed be the film and will play Draya, a sassy hairstylist in the beauty shop portion of the barbershop. Filming began on May 11 in Atlanta, Georgia.
The film will be released in the United States on April 15, 2016 (original date February 16). Nicki confirmed on Twitter in late May that she would have "A LOT" of more lines than her previous films.
With the neighborhood changing, Calvin considers shuttering the barbershop and moving uptown.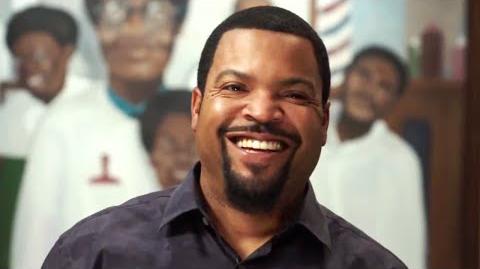 Ice Cube as Calvin Palmer
Cedric the Entertainer as Eddie
Regina Hall as Angie
Sean Patrick Thomas as Jimmy James
Eve as Terri
Anthony Anderson as J.D.
Common as Rashad
Nicki Minaj as Draya
Maryum Ali as Diane
Margot Bingham as Bree
Utkarsh Ambudkar as Raja
Ad blocker interference detected!
Wikia is a free-to-use site that makes money from advertising. We have a modified experience for viewers using ad blockers

Wikia is not accessible if you've made further modifications. Remove the custom ad blocker rule(s) and the page will load as expected.