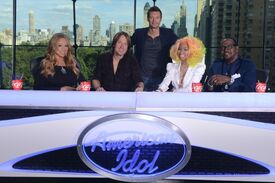 American Idol'
s season twelve was premiered on January 16 and 17, 2013 on Fox during a two-night premiere at 8/7c. The show underwent a number of changes from season eleven, including the expansion of the judging panel to four judges, three of whom are new.
[1]
Singer
Mariah Carey
, Trinidadian hip hop artist
Nicki Minaj
, and Australian country music artist Keith Urban joined the judging panel as replacements for Jennifer Lopez and Steven Tyler, who both left at the end of season eleven.
[2]
Randy Jackson is the only judge from last season to return this season. Filming for the show for the first round of auditions began on September 16, 2012 in New York City.
Filming for the twelfth season of the show had spawned a feud between Minaj and Carey, with them sending threats to one another across the table after disagreeing over a contestant. The fued has since been resolved, and they are still communicating with each other.
References
Edit
Ad blocker interference detected!
Wikia is a free-to-use site that makes money from advertising. We have a modified experience for viewers using ad blockers

Wikia is not accessible if you've made further modifications. Remove the custom ad blocker rule(s) and the page will load as expected.