Ad blocker interference detected!
Wikia is a free-to-use site that makes money from advertising. We have a modified experience for viewers using ad blockers

Wikia is not accessible if you've made further modifications. Remove the custom ad blocker rule(s) and the page will load as expected.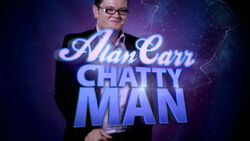 Alan Carr: Chatty Man (also simply known as Chatty Man) is an award-winning British comedy chat show presented by comedian Alan Carr. The show features interviews with celebrity guests, sketches, topical chat and music. The show was first on as 2 pilots in late May 2009, the show proved popular with the public and was commissioned for a series. The first episode drew in a total of 2.15 million viewers. To date, the show has broadcast 8 series and 68 episodes. Carr has signed a new deal worth £4 million, which will keep the show on air to 2014, spanning another four more series. The ninth series which will consist of 14 episodes making it the longest series to date will launch on 14 September 2012.[1]
Interview with Nicki
Edit
Nicki was interviewed on November 2, 2012. She talked about her love for the U.K., shooting a video for her new single in London, why she decided to do "American Idol" over "X Factor," and her E! reality show. Plus, she gave viewers an eyeful of her famous assets.
On Justin Bieber grinding against her in the "Beauty and a Beat" she said that "he couldn't even feel me through that big poofy skirt. His little thing..."
On her wig collection, she said that "the wigs winded up having their own room. I had to move because of the wigs. It takes up a lot of space, so now I just let my hairdresser keep most of them, 99 percent of them."
On why she didn't do "X Factor", she said that "we [most likely Simon Cowell] were in talks up until the last minute. And he went with Nicole [Scherzinger]. It just wasn't right; I wasn't completely sold on it. I don't think the show really knew my worth at the time either. But I love Simon. Just to even have him interested, I was honored."
She also sent a special message to JLS member Oritsé, who has a crush on her: "I'm so happy that you like me," a flirty Nicki told the British pop star. "Maybe one day we can have some amazing love connection."[2]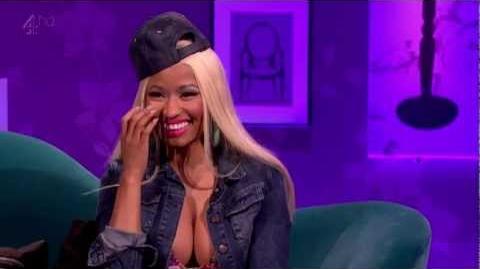 References
Edit