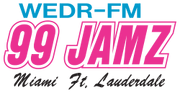 99 Jamz
is an urban-formatted radio station serving the South Florida region and licensed to Miami, Florida. WEDR has an unusually wide music selection for a mainstream urban-formatted radio station that ranges from typical hip-hop and R&B to reggaeton.
Nicki Minaj called for an interview on April 19, 2013 with host Papa Keith.
Ad blocker interference detected!
Wikia is a free-to-use site that makes money from advertising. We have a modified experience for viewers using ad blockers

Wikia is not accessible if you've made further modifications. Remove the custom ad blocker rule(s) and the page will load as expected.