Ad blocker interference detected!
Wikia is a free-to-use site that makes money from advertising. We have a modified experience for viewers using ad blockers

Wikia is not accessible if you've made further modifications. Remove the custom ad blocker rule(s) and the page will load as expected.
"40 Bars" is the ninth track on Nicki Minaj's first mixtape, Playtime is Over. Minaj later re-used some of the lyrics in "BedRock" ("He pressin me like button downs on a Friday night"). The recording is an original rap over the beat of "Banned from T.V." by Noreaga, Nature, Cam'ron and The Lox.
Freestyle video
Edit
The song was originally a freestyle by Minaj, who later re-recorded for the Playtime Is Over mixtape. In the freestyle video, Minaj raps a cappella on a staircase with her friends TT and Candace sitting behind her.[1] At the 2011 BET Awards, Minaj described being "discovered" by Lil Wayne while rapping on a staircase; it is very possible that this freestyle is the beginning of relationship with Wayne and Young Money.[2]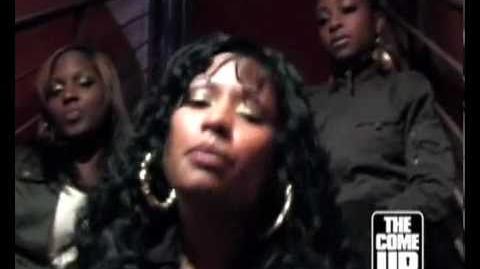 "40 Bars" (Nicki Minaj) [Explicit]
Ha ha, ha ha
It's your girl Nicki Minaj, bitches
Listen, y'all better buckle y'all motherfuckin' seat-belts broads
It's goin' down

Fitted down and I'm ready to play
When your album gonna drop, bitches never could say
Say, fuck I look like giving birds they props
Bitches act like they hot, but I heard they not
How the fuck you in the game like ten years strong?
You bitches still can't write ya own damn song?
You see me on the stoop, man, these birds just salute me
Whether I'm in the coupe or the hoopty-doopty
I'm always with a dude that'll off the kufi
Let him eat my coochie and cop me Pucci
House in the boonies, rock a doobie
Cock the twenty-two then spark a loosey
He tell me I'm the one, he probably right
He pressing me like button downs on a Friday night
Your girl get it poppin' like dynamite, dynamite
The coke albino white
Name one bitch in the game that I can't murder
Chicken noodle bitches on the side with a soda
Give it to everybody like a cop with a quota
Stop playing poker, hop in something mocha
I eat bitches, no knife, no fork-a
Bitch want it with me? Living the life loca
Oh, I get it you a joker
Leave a dot on your head and I ain't talking 'bout polka
You the type that be runnin your mouth
See you on the block, wanna run in your house
I'm with that nigga Fendi, never fucks with a slouch
I fuck with Dirty Money like what's under the couch
Cause ain't a bitch could fuck with my flow
When it comes to drugs, mami, just say no
Either you're on something or you're S-L-O
Had to switch up the flow, let this sketels know
I come, come hard, I don't come with garbage
Just one phone call they gon' come regardless
I always got the ball, ma
I roll with starters
Write my own bars and my flow's the hardest, nigga
References
Edit